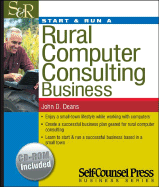 John Deans spent years working for major companies in Houston. He moved to Brenham a few years ago, and the pace of life changed.
"On my way to work, I see cows and ponds — not red brake lights in the front of my car."
Deans found plenty of IT work in Washington County. He helps businesses and government agencies extend the life of computer networking hardware.
"The guys that are out there that are doing just one thing like installing new Cisco routers, they're going to be hurting. And that's one of the things I've had in my book, is be able to do a lot of things, whether you're internal and your over head IT guy, or you're an external billable consultant like I am. You have to be able to do a lot of things to stay employed or to stay billable."
Deans wrote the book Start and Run a Rural Consulting Business and writes a weekly tech column for the Brenham Banner Press. He loves working for rural customers, which include law enforcement agencies and the medical sector, as well as small companies.
"It's a whole different mindset. I mean, I work without contracts. Word of mouth is 90 per cent on how you get new clients. And you hold those new clients by doing the first gig or the first project they give you — you gotta do that well. And get that repeat business, so you don't have to go out there and sell and sell to try to get new clients and new clients."
Deans uploads segments on YouTube as the Country Computer Consultant.
Ed Mayberry, KUHF Houston Public Radio News.