With a nail gun in one hand and a tape measure in the other, Mike Harris is on the front lines of the re-birth of Bolivar.
"Most of these houses sustained damage, most of it beyond repair."
Harris is one of dozens of contractors repairing and rebuilding homes there. Right now, he's working on his mother-in-law's home, with two more jobs lined-up after that.
"There's a lot of work here. There's a lot of hurdles to step over because of all the regulations and all the different people in charge of engineering and basically building codes and things like that."
There were an estimated 2200 homes on Bolivar before Ike. About 850 of those homes survived the storm.
"It's going to be probably eight years before they get back to, my guess is 75-percent, 80-percent."
Greg McCollock is a contractor who also owns a home on Gulf Cedar Drive, in Crystal Beach. Built just a few years ago, it survived Ike, mostly because of 12-foot pilings and construction that can withstand 130 mile per hour winds. He says about the only good news is that many homes rebuilt after Ike will be a lot stronger.
"Without question the houses that are still standing are the newer ones and when the next hurricane comes through, they'll be more houses that are standing even with this bad of a hit. The houses that were older, no question are the ones that are gone."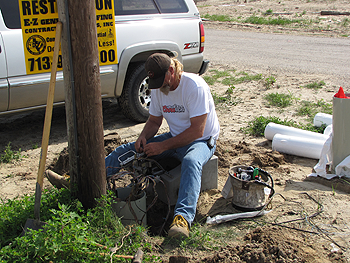 Down the road, just a block from the beach where many homes were destroyed, Drew Downin is repairing underground phone lines.
"The salt water's got into everything and just ruined it, so what you have to do is basically dig down and pull up the cable, get new wire that's inside the cable and peel it back and re-splice everything."
Downin is one of about 50 AT&T contractors working on what looks like a moonscape in many places.
"You look around and there's no houses, you know, and we're actually fixing lines for I guess if they rebuild. I don't know if people are going to come back or what. It's quite interesting."
"The people on Bolivar are self-reliant. They do things on their own and they take care of things themselves."
Wayne Johnson is a contractor who says there's not as much work on Bolivar as you might think. In addition to residents doing their own work, insurance money has been a problem. He says he's worried about the next hurricane season less than three months away.
"If we get another storm in here this year and it hits this area here again, it's going to wipe it out. It's going to ruin it. It's going to devastate this area so bad people won't even be able to come back."
But if you stand in one place pretty much anywhere on Bolivar, you'll probably hear hammers, saws and bulldozers, the sounds of progress.