From a distance on the Bolivar Ferry from the eastern tip of Galveston Island, the Bolivar Peninsula looks normal. But for visitors like Dale Williams, looks can be deceiving.
"Very deceiving. You'll see rubble piles 20-foot high, 50-foot round and they haven't got it cleaned-up yet, but the place still stinks from all the dead cattle and stuff like that."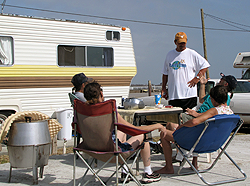 Off the ferry and onto Highway 87, it's quickly obvious life won't be like it was before anytime soon. Just off the highway, a trailer park has come to life. That's where James Andrews has been living since December 13th, when he was allowed back.
"Everybody's been here for a long time and most of these houses down here have been passed-down from their granddaddies to their daddies to now they have them and we just don't want to give that up."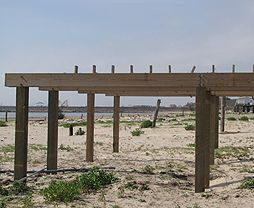 Andrews and a few buddies are slowly rebuilding their own homes, completely wiped-out by Ike.
"It's been a bad situation but you know, it's getting better by the day. I'm finally starting to see some results from some of this work that's been going on. We're finally getting the debris cleared-up. It makes a difference." Everywhere you look, life goes on as well as it can under the circumstances, even at the Port Bolivar Community Cemetery. That's where Malcolm Como is waiting for an unusual funeral, the re-burial of a man who was found in a coffin that had floated into a pasture during Ike."
"The majority of the headstones were turned-over and we got out here and turned them back, got everything straightened-out from about where we're standing here out to the road. This roadway was washed-out."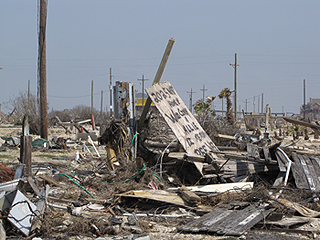 Como has lived on Bolivar for 46 years. He says now is not the time to roll-over and give up.
"If we wait on anybody to help us nothing won't get done, so you know, you just roll-up your sleeves and get after it."
"$1.65. Next one in line."
In Crystal Beach, Swede's Grocery Store is the place to be. It was the first store to re-open after Ike and owner Abdul Malak Batcha says he's had to haul his own food in from Houston.
"The first day, I clean the store. The first day the government let me in, me, my wife and everybody, my son, everybody, tried to clean and everything and we bring the water from Houston and we clean the floor."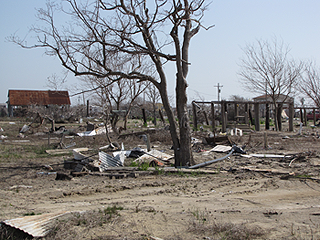 In Gilchrist, just up the road, residents weren't so lucky. There are only a few homes standing. The rest are gone. There's a lot of work to do, but for James Andrews, it's simple.
"You have to accept where you live and when I accept it, this place in vulnerable to storms. But it's been here a lot longer than I've been here and it will be here a lot longer after I'm gone."