The French ship La Belle, captained by the explorer La Salle, sank in what is now Matagorda Bay in 1686, leaving La Salle and his crew fatally stranded. Most of them died of starvation or disease, and even La Salle was killed by one of his own men. Only a handful lived to tell the tale.
The Belle laid at the bottom of the bay until 1996 when it was found and excavated by marine archeologists from Texas A&M. The Texas Historical Commission has more than a million artifacts found in the wreck. What's left of the Belle's hull is now at Texas A&M's Marine Archeology Department, where Jim Bruseth and his team are struggling to save it.
"The artifacts from the hull of La Belle were brought to Texas A&M University, and under our supervision, and our funding, they have reassembled the hull. And then we built for them a very large concrete vat, and they've put La Belle down in that and she's soaking in polyethylene glycol."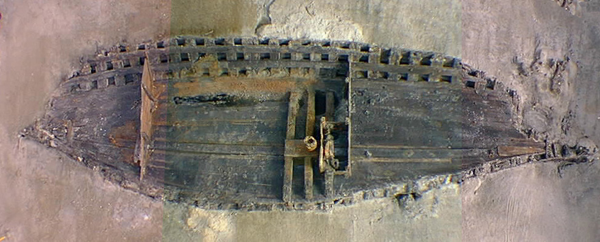 Composite image from three photographs looking down at the excavated wooden hull remains of the Belle shipwreck, excavated by the Texas Historical Commission in 1995.
---
Bruseth says they've been using a weak solution of polyethylene glycol, or PEG, to preserve the hull, but they now need a stronger solution to strengthen the wood so it can be placed on display in a museum. Unfortunately, PEG is oil-based, and, like oil, it's a lot more expensive than it used to be. Bruseth says it will cost at least a million dollars to buy as much PEG as they need, and they need it soon, no later than the end of this year. Without it the hull could be lost forever. He says that can't be allowed to happen to what's left of a ship that changed the course of North American history.
"The sinking of the ship doomed La Salle's colony. It failed, but it opened up the door and caused Spain to realize that they had to come up and occupy this part of the New World. And in so doing, has given us the wonderful Hispanic heritage that we have today."
Toni Turner is with the Friends of the Texas Historical Commission, which is trying to raise money to buy the PEG the Belle needs. Turner says the national economy is making that difficult, but they're not giving up because it's very important for them to succeed. This is not just any old wooden hull.
"It's part of our treaty obligation with France that we conserve all of these artifacts, but the hull is the most important artifact. And it's really critical that we abide by our treaty obligations, but also to save this incredible window into the past, this wonderful little ship that contained so much of a picture of what life was like in 17th century New World explorations."
You can find the full story of the Texas Historical Commission's work in finding and excavating the wreck of the Belle, and its efforts to save it at http://www.thc.state.tx.us/lasalle/lasbelle.shtml.