Governor Perry has been an outspoken critic of President Barack Obama's 787-billion dollar stimulus bill. Texas' portion is roughly 17-billion dollars. 555-million would have gone to beef-up state unemployment benefits. Perry appeared at a family owned hardware store in West Houston to say he was rejecting that portion because he said it would require the state to increase the tax burden on Texas businesses to fund an expanded program.
"What Washington is trying to do, is to force their philosophical position on the people of the state of Texas, and saying, 'We want you to take this money. Take this money and then, when you take it, we're forcing you to change. We're forcing you to be more dependant upon government'. Texans by and large, don't want to be dependant upon federal government."
Perry claims accepting federal dollars would require a change in the state's definition of unemployment.
"We have an unemployment insurance that's in place, that has been in place for years, and I don't see any reason that's gonna change."
Garnet Coleman: " The Governor clearly doesn't understand that when people lose their jobs, they need money to continue to buy clothes for their children, put food on the table, pay their light bill and pay their mortgage."
Houston state representative Garnet Coleman criticzed the governor for playing politics with the future of Texas by rejecting the unemployment component of the stimulus package.
"Texans have lost over 250-thousand jobs since the economic downturn. In January, 75-thousand, 800-Texans lost their jobs. The reality is, if we don't do this, the people who need the money the most, they won't be eligible for it without the changes in statute."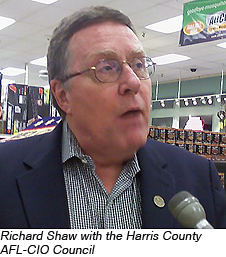 Richard Shaw with the Harris County AFL-CIO Council says the governor should not be making these kinds of decision for working families that are struggling in an economy that's worsening.
"Many many part time workers, are part time not out of choice but out of necessity, because that's the only kind of a job that they can get. And it's a shame that our governor is going to turn down federal tax dollars and not help working families with those dollars."
Representative Coleman made a motion to recommend that the unemployment component of the stimulus package be accepted.
Pat Hernandez, KUHF…Houston Public Radio News.