The 2009 "Top Metro" rankings show Greater Houston as the most attractive place to locate or expand business — a key factor for job growth and retention. Mayor Bill White says businesses consider many factors in site selection.
"The affordability of the city, the depth and breadth of the work force in various different skills and talents within the community, the quality of life that a community has — and on all those, Houston ranks very high."
White's remarks at Discovery Green were delivered with the sounds of construction activity in the background.
"The construction that you see behind us — this is Houston's version of the stimulus package — and because of this public sector investment, done with generous private sector investment, that we've seen approximately $1 billion of new construction that has been completed or underway in a several block radius of where we stand."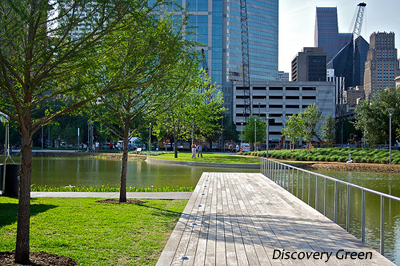 The announcement was made by Site Selection magazine's Adam Bruns.
"The top metro award for corporate location projects within the United States — that goes to Greater Houston, with 179 deals in the calendar year 2008."
The magazine says Dallas follows at number two and Chicago, which has won the title the last six out of seven years, came in third place.
"We've been around for 55 years documenting industrial development in this country. We track private sector corporate facility location and expansion projects according to certain criteria involving capital investment, job creation or new square footage created."
Texas earned the second spot in state rankings for corporate project attraction.
Ed Mayberry, KUHF Houston Public Radio News.