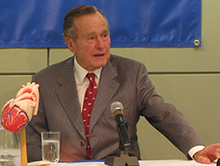 During hard and stressful times they say it's good to have a sense of humor. That's certainly seems to be the case for former President George H.W. Bush now that Barbara Bush's surgery is over. Take for instance this answer, when someone asked the former President how Barbara is looking:
"How did she look to me? About the same. She looks well. She just came from her room. I Keep saying her she looks great and she said 'don't tell me that'. No but she does and the doctors think she looking well."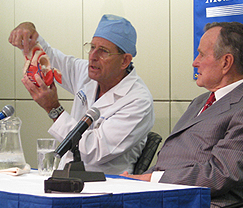 The surgery was performed at the Methodist Hospital by Dr. Gerald Lawrie. He says it lasted about 2 and a half hours and there weren't any problems. Mrs. Bush was diagnosed with severe narrowing of the aortic valve. The doctor says it's a common condition for people in their seventies.

"The problem is causes is the valve instead of being a soft, flexible structure that opens and closes breaks down and calcium is deposited in the leaflets and they get stiffer and stiffer and finally it won't open."
The Bush family has been getting a lot of phone calls from friends and well wishers — including former presidents.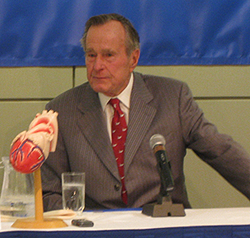 "Today we heard from four presidents: Obama, Clinton, Jimmy Carter and George W. Bush. And I think there's a lot of interest because of who she is."
Bush says he knew his wife was in good hands, but he was a bit surprised when they told him what they were actually going to do in the surgery.
"You come here and listen to this guy and you might think it's routine. But it didn't seem routine to me when you go in there and put a pig's valve in your wife. And we've had a lot of jokes in our family about whether she's going-to-go around going 'oink oink'."
The former first lady will remain in intensive care till the end of the week and should be able to leave the hospital in a week or so.
Bill Stamps KUHF Houston public radio news.