"Because we have freedom to go wherever we like"
Just imagine that. You're sitting in class, and you have to go to the bathroom. But you don't have to raise your hand, sign a pass, or scamper by the stern hall monitor. You just get up, and go. And you're in 6th grade.
"Well, not wherever you like. You can't play in traffic"
This is The Post Oak School, a Montessori school here in Houston. Montessori schools feel different than many other schools. In between lessons with the teacher, students sit with their friends at small tables, helping each other as they work. Freedom and independence are nurtured-but so is responsibility. Here's teacher Joe Lockett:
"It's not just an academic method, it's also really a way of how you treat each other in groups. We have alumni who say, the freedom they had in Montessori education, they lost in high school, and they didn't get it back until they got to college. If you can have 4th or 5th graders acting like college students, I think that's pretty good place to be."
These schools also stress creativity and tactile exploration. At 2 or 3 years old, Montessori students learn to count using brightly colored beads. By the time they get to 6th grade, they are learning binomial equations using colored blocks. Many other schools do this as well, but it's fundamental to what Montessori is. Student Rachel Levy says that this method really works.
"It shows you how to multiply something, and you really get WHY 8 times 8 equals 64, you don't just memorize it"
And that is what many people believe we need in education today-not just more money, or more standardized tests, but entirely new methods of education, for a new economy.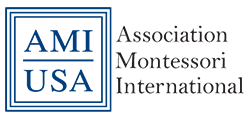 This weekend, Montessori educators gathered in Houston for their annual conference. The keynote was given by Sir Ken Robinson, a former professor of education and author of several studies on creativity and human resources.
"I believe the great challenge we face is to change the whole public conversation about education."
Sir Robinson believes that our current education system is built on an old model-one that churns out graduates like products from a factory. In the new economy, we have got to encourage creativity-or we will fall behind.
"It's an essential part of being a human being, it's essential to the health of our communities, and it's essential for the vitality of our economies, that we are able to think differently, to meet change head on, to be flexible and adaptable, look at new circumstances and to adjust them if we feel that's right, or change them if we think it isn't"
John Long, head of the Post Oak school, reminds us that the Montessori method has already had an impact on what we know as the new economy.
"You're aware, of course, that Google was invented by two Montessori students. And if you want to check that out, you can look them up on Wikipedia, and by the way, Wikipedia was invented by a Montessori student."
From the KUHF NewsLab, I'm Melissa Galvez.
This story was prepared with help from Carina Baskett.