(sound keys rattling and starting of the car).
If you ride along with Deborah Hoffman on one of her weekly dog-search-missions, there's no telling what you'll see.
"I think we'll go over there first."
In the trunk of her car there's enough dog food to feed…well, let's just say a lot of dogs. Sometimes her goal is to catch a stray dog. Other times it's to set out food for them to eat.
"I've got ten plus feeding stations that have been set up for five months. And we drop the food in those bowls or sometimes on the ground."
Deborah concentrates her efforts on an area in North Houston just off the EastTex Freeway. She's always been a dog lover, but a few years ago someone took her to this area, so she could for herself how bad it was.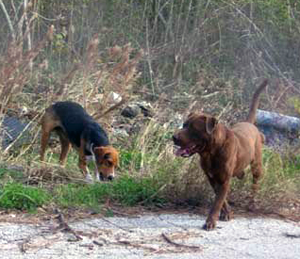 "I was just blown away once again by what I saw. Just abandoned dogs everywhere: dogs limping, dogs starving, dogs covered in mange, dogs with no hair."
Ever since then she's been making weekly trips: laying out food and trying to catch as many of them as she can.
"Down to the left there's a dead dog just laying in the street decomposing. I'm sure you don't want to see that."
There's a big wooded area nearby investigators say is an animal dumping ground for dogfighters. They've found lots of dead dogs, dogs with severe injuries. I thought we were going in there, but Deborah says one thing she won't do is go in the woods.
"To be honest. I'm scared stiff of dogfighting people, OK. I mean really and truly they are evil and there's nothing that you can put past what they will do. I mean its obvious."
"From what I understand there's homeless people that live in those woods over there too. Cause Patricia came upon them. She goes through woods."

Bill Stamps: "Do you go back in there?"

"No. "
Some people like helping seniors, some like helping children…Deborah likes helping animals. And she says there's nothing like catching a stray dog and giving it a new home.
"As a matter of fact, yes, we do the happy dance around the trap when we get a dog. Absolutely. It's very exciting."
Feeding and catching stray dogs isn't easy. So how much longer will she do this?

"At this point, I think I can for the rest of my life."
Bill Stamps: "But you won't go in there?"

"No, I'm a city girl, not a woodsy girl."
Bill Stamps…KUHF Houston Public Radio News.