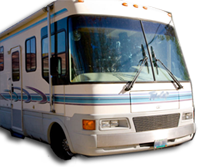 Some RV camp owners were concerned last summer when record high fuel prices prompted some retirees to cancel their winter reservations. RV park owner Gwen Craig says last summer, most visitors all came from within a 200-mile radius.
"And we were in occupancy over the previous year. You know, I noticed probably about a three-week period where the phones didn't ring quite as much. But that's about all it took for people to really to become acclimated to four dollars a gallon! Most of them said, you know, 'we may be eating out a little bit less, but we've got this RV sitting here, and we're gonna use it.' You know, I really didn't notice the downturn in our occupancy at all, and we are totally packed this winter."
Craig owns two RV parks, including the Rayford Crossing RV Resort in The Woodlands and the smaller Timber Ridge RV Village in Magnolia. She says Texas RV campgrounds are once again packed with "Winter Texans."
"You know, all winter long, we're probably 90 per cent occupancy. And then the summer it drops to about 80 because, you know, during the week they're all back home. On weekends they come in. We have 115 sites, so you know, you're gonna have at least two people in a site—especially in the summer—you have a family of, you know, four coming in. So I noticed that the younger families are really getting into, and because this is a way to spend time with their children, away from the TV, away from video games."
The Texas Association of Campground Owners markets more than 400 private campgrounds and RV resorts. Ed Mayberry, KUHF Houston Public Radio News.