The street in front of Minute Maid Park was lined with thousands of revelers young and old. They watched marching bands, beauty queens and local dignitaries on floats and fancy cars. Houston city councilman Peter Brown said he could sense a special feeling from the crowd.
"I would even say it's the beginning of a spiritual awakening for this country, which we need very badly."
A long standing feud between the MLK Parade Foundation and the Black Heritage Society over how the event should be celebrated lead to the two parades. Despite the bickering, this woman says what happens in Washington tomorrow makes today more significant.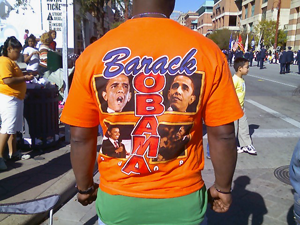 "Dr. King's dream has been realized, basically. So, yeah I think it means a lot more, in continuation of what's gonna happen tomorrow."
Grammy Award-winning rapper Chamillionaire was Grand Marshall of the morning parade. He said he couldn't wait to board a plane for the inauguration.
"With the election of the first black president, also Martin Luther King Day, but it's just no better time to put those together, with Barack being elected as President."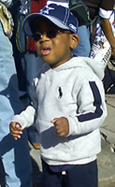 Kids I spoke to knew the significance.
"I think that it's good that we have a black president. The economy is gonna get better and people will get more jobs."
Ruby Mosley is young at heart. She's amazed at another first.
"This is the first MLK parade that we have found back in history, that has come the day before inauguration. And it means a lot."
The second parade took place at MLK Jr Blvd.
Pat Hernandez, KUHF…Houston Public Radio News.