The exhaust that hangs over Houston contains clues that can lead to pollution sources. UH Environmental Engineering Professor Shankar Chellam says there are unique identifiers in fine particulates.
"What we are doing is fingerprinting the sources of pollution, especially as it relates to the petroleum refining operations. Metals that are present at very low levels in these particles have unique fingerprints."
The metals are from catalysts used to break down the bonds in crude oil for gasoline and chemicals for plastics. Chellam says his researchers use advanced computer models to interpret the unique identifiers of the particles.
"The equipment we use is standard equipment. All it does is it sucks in air at a certain specified flow rate. We buy somewhat expensive filters and we go to the site every week to make sure the monitors are running properly."
A group of about 44 chemical and refining facilities along the Houston Ship Channel fund the non-profit Houston Regional Monitoring Corporation. Steve Smith heads the system, which has nine monitoring sites and an annual budget of $2.2 million.
"We look for what is called the criteria pollutants defined by the Environmental Protection Agency—ozone, which is the one that gets a lot of attention here in Houston. Nitrogen oxides, which is one of the components that goes into the formation of ozone. We look for sulfur dioxide, which generally comes from facilities like refineries. We also monitor the weather, because basically it's important to know which way was the wind blowing when that monitor saw this value."
Smith says it's hard to determine the source of so-called volatile organics such as gasoline or diesel. But if you look at particulates with the right type of analyzer, you can determine potential sources.
"Basically you have a piece of filter paper — not unlike what you put in your coffee maker — and you draw an air sample through that paper and the particulate is caught on that filter paper. You then can do a chemical analysis."
Smith says Houston's air is getting cleaner.
"Over the last 20 years, we've seen about an 80 per cent reduction in the monitored volatile organic compounds. There's been in the last ten years about a 30 per cent reduction in the monitored levels of nitrogen oxides. Volatile organics and the nitrogen oxides is the chemistry that comes together to form ozone."
Shankar Chellum with the University of Houston says analyzing the particulates and determining the actual refinery is still elusive.
"Refineries have various catalysts, meaning ExxonMobil is not going to use the same catalyst as Shell. All these refineries are obligated to self-report to TCEQ. We can potentially correlate the increased concentrations we find with their self-reported events."
Ed Mayberry, Houston Public Radio News.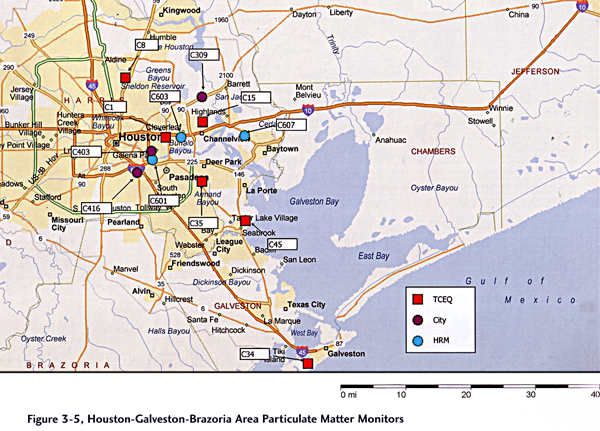 Photo courtesy of Houston Regional Monitoring Corporation