[From President-elect Barack Obama's Democratic Convention Speech:] "We are the party of Roosevelt. We are the party of Kennedy… "

As he listened to Barack Obama's acceptance speech artist Ted Ellis knew he had to put his thoughts on canvas. He'd painted Obama the candidate before.
"…but then I had Obama President…"

But after Obama was elected the nation's first black president, Ted who is also black knew this was his chance. So he began to paint.
"I thought about a majestic image that definitely shows his essence and personality. And then to a greater extent, I thought about what defines America. And it's the difference of each individual, different backgrounds."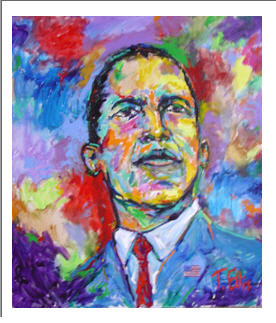 Although beauty is in the eye of the beholder, word is starting to spread about Ted's painting. The foyer of his Friendswood home is full of Obama prints and other works he's packing up and taking to Washington this weekend for the inauguration.
"I'll drive to Atlanta and from Atlanta ill hit the Carolinas and from Caroline straight into DC."
Ted's piece will be unveiled at the French embassy the day before the inauguration. He says for a number of reasons many African American artists struggle to make it big. The Obama painting could be his ticket.
"It's a piece that I really wanted to get his likeness, I wanted to have a lot of energy in it. I wanted it to be spontaneous, and I think I was able to accomplish that."
(phone)
His phone has been ringing constantly lately, but this call is from his daughter who needs to be picked up from school.
"Alright bye."
So he throws a few more pieces into his van and heads off.
[From President-elect Barack Obama's Democratic Convention Speech:]"I will set a clear goal as President: in ten years, we will finally end our dependence on oil from the Middle East…"
This weekend will be the biggest of Barack Obama's life. Ted Ellis is hoping his will be pretty big as well.
Bill Stamps. KUHF Houston Public Radio News.