Everything the Harris County Flood Control District does relates to flooding. Tree planting is one of those activities…and it's almost by magic.
"One of our basins was just very bare. Went out four days later, and there were about seven thousand trees out there. It was amazing."
Heather Saucier handles media relations for the district. She says for the past five years, they've planted an average of 30-thousand trees every year.
"We generally try to find areas that don't have a lot of trees, and areas where there is a lot of grass and we're having to mow. And really, when we plant a tree, it'll take a good eight to ten years to establish a complete canopy. But once that happens, we don't have to mow as much. We have 25-hundred miles of channel here in Harris County and when you consider both banks, that's 5-thousand miles, and so, you can only imagine how expensive it would be to mow."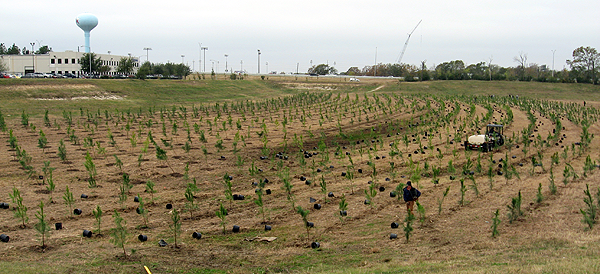 The activity makes it one of the largest tree planting agencies in the area. But it doesn't come cheap. Saucier says the district is getting help from Apache Corporation. It is a Houston based independent oil and gas exploration and production company.
"Had we had to purchase these trees, we would be spending more than three hundred thousand dollars. And so, this was a very generous gift from Apache, and we're gonna make sure we make very good use of these trees."

Obie O'Brien directs corporate outreach for Apache Corporation.
"We have a goal of planting a million trees through the Apache Foundation and the Harris County Flood Control District, along with a number of other governmental agencies, schools, volunteer groups in five states have helped us with our goal of planting these trees and we're looking forward to this Spring and planting our millionth tree, hopefully right here in Houston."
The district's Saucier says there is a method to selecting and planting the trees.
"A lot of times, if we're going to plant at the bottom of the detention basin, which is designed to hold water, we'll want to choose something like a bald cypress, or a water tupelo, something that's able to take a lot of water year round. And in other areas, we just try to plant native trees. You know, all different kinds, any variety of oak, river birch, any type of pine. Really, what we're planting along White Oak, a majority of trees we're planting along White Oak right now are the loblolly pines."
The loblollies can be harvested should further excavation of the basins ever be needed.
Pat Hernandez, KUHF…Huston Public Radio News.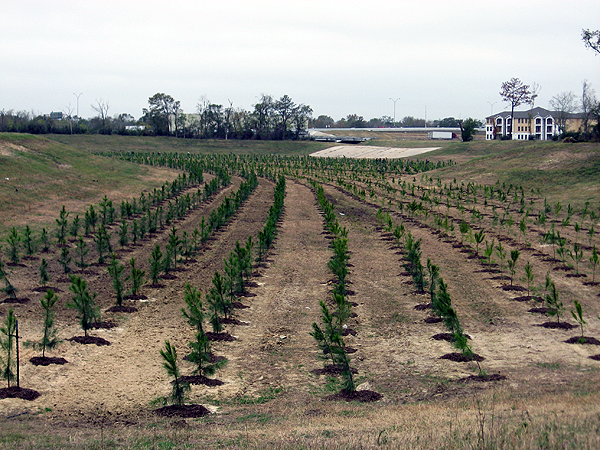 Pictures are courtesy of Harris County Flood Control District.