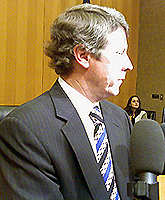 The 42 year old Vasquez is leaving his job as chief financial officer for a Houston-based coffee processor and distributor. Harris County Judge Ed Emmett says he was pleased with the selection.
"What I was looking for from the beginning was somebody that had the business background to run a major office like the Harris County Tax Office. We're the third largest county in the U.S. It's a major business operation, first and foremost, and that's what I was looking for was somebody who could serve the taxpayers and the residents of Harris County well in running that office. I was, really from the beginning, trying to look for somebody with the business acumen and background to run the office. That was my main criteria."
Vasquez says his priority will be to meet with each department head while maintaining customer service and efficiency during his first 100-days in office. He admits his style is different from Bettencourt.
"I think we will see quite a difference in the tenor of the office. I believe that the tax assessor-collector's duties and operations are really, truly a non partisan issue."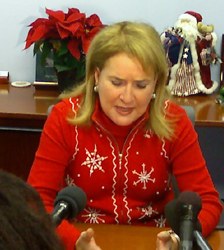 The vote for Vasquez was not unanimous. Sylvia Garcia favored Vasquez, but nominated Diane Troutman, who lost to Bettencourt in the election.
"I think it was over a half million people voted for her. She was second choice. It was a close race. So to me, she was the obvious choice for this position because the voters had already spoken and because it was such an unusual kind of situation that we've never faced before. It's sort of like so many other things when there is a runner-up and, the first person decides that they can't continue with something, or can't do something for any reason, you go to the runner-up. I think she was the runner-up, and she should have been nominated and selected, which is why I nominated her."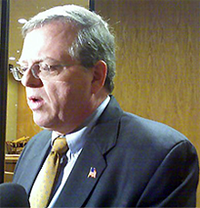 Bettencourt surprised many when he tendered his resignation just weeks after he defeated Troutman to a third four-year term. He addressed the court and announced his intentions.
"Just want to say that I'm going to do my passion in life which is to run a mid-size start-up and help people save some money, but I want to say that I really appreciate the ten years of service, and all the good times with the Commisisoner's Court and all the good people that served under me."
Vasquez will serve the first two year's of Bettencourt's term. A special election will be held for the remainder of the term, which Vasquez says he will fight to keep.
Pat Hernandez, KUHF…Houston Public Radio News.