If you're passing through Terminal A, you may notice the distant sound of Christmas music.
Once past security, there it is: a small stage and sound system, complete with karaoke machine and someone wailing away on the microphone.
(singing) "I'll have a blue Christmas…"
"My name is Robert Lamy. I'm an inspector here with the City of Houston. It's just that time of year where you just like to get together with people and hopefully they enjoy all the songs in this time of the year."
Lamy works at Bush Intercontinental and says he's done karaoke with his kids.
"Elvis Presley has always been a good singer for me. That's my voice, I kinda try to sound like him. I've done it before so I'm kinda getting used to it."

Every year the Houston Airport System has some sort of holiday celebration whether it be a choir or carolers roaming the halls.
Communications Director Roxanne Butler says this is the first time they've tried karaoke.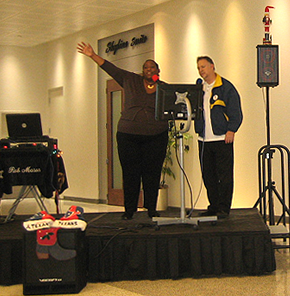 "It's the element of surprise because you're going through the checkpoint, you hear the music and you immediately relax a little bit. Then you see that it's everyday people up there singing and if you have a song that you love to sing during the holidays, why not belt it out at the airport? It relieves stress, it makes everybody happy and you get rewarded with a huge round of applause."

(singing) "Jingle Bells…"
A lot of passengers walk by with puzzled expressions, but plenty of them join in the fun or just stop to listen and laugh.
"It's heightening the customer experience, which was one of the reasons we wanted to do it. To have them leave Houston with that Houston-friendly flavor and what more than saying I performed and I made a lot of people happy and I'm in the holiday spirit."
It's certainly not the kind of thing you expect to encounter in an airport and it may leave some visitors thinking "only in Houston."

Laurie Johnson. KUHF-Houston Public Radio News.