Harris County Commissioner Jerry Eversole: "I move."
Harris County Commissioner Sylvia Garcia: "Second."
Harris County Judge Ed Emmett: "Any discussion?…All in favor?"
Commissioners: "Aye."
Emmett: "Good…and thank y'all."
Harris County Clerk Beverly Kaufman thanked County Judge Ed Emmett and Commissioner's Court for their help.
"We're so grateful to the members of the court, for the support that you give us. Without your support we couldn't do it."
Emmett says it was suggested that more early voting locations be considered to accommodate the number of people casting ballots.
"Kaufman said we were over prepared for election day itself. And we need to consider all that — because people are changing their voting patterns. But all-in-all, we got very few complaints for a county of almost four million people."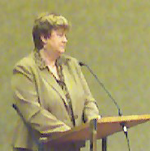 Kaufman: "We knew we were going to have a very high turnout election and so, we prepared for early voting by opening more locations and expanding the existing locations or moving some to larger locations and increasing equipment and staff, and that proved to be a very wise decision because of the number of voters that we had. Literally, 62-percent of the vote occurred early for that two week period."
Kaufman says any candidate seeking a recount or filing an election contest must wait until a canvas is complete.
"A recount is a prerequisite to an election contest too. You always take things in due order. You canvas, you recount and then you may file a contest, if you feel that that's necessary. Hopefully, we've put this baby to bed."
But resident Cynthia Spooner complained about how hard it was for her to vote and claimed that some election procedures were duplicated. She says it was her goal to ensure that every ballot cast was counted.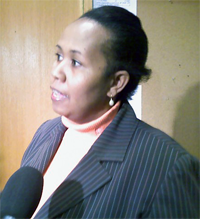 "There was a poor quality of work product that was coming out of the registrar's office. There was a consistent misunderstanding, or misapplication of the Voter Registration act of 1993, which is the standard bearer of voter registration. I mean, Texas election code is fine, but Texas election code should as minimum standard be following the federal standard for voter protection at this point."
Spooner says she hopes her complaint will be followed through, but County Judge Emmett says overall.
"I think, in a county this size, I mean we have more people than 24-states and, it did go well."
Pat Hernandez, KUHF Houston Public Radio News.