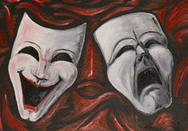 Jonathon Glus with the Houston Arts Alliance says the economic impact of the arts on the local economy is substantial, with Houston now recognized as having the seventh-largest arts sector in the country.
"Which is about $650 million in size—30,000 jobs. For every dollar that public money is invested in the arts, $43 is returned through taxes. Capitalizing and leveraging the resources that we have, which is this arts sector here, only benefits the bigger picture of the overall economy in the city."
The Houston Arts Alliance promotes the non-profit arts industry in the Houston area. Glus says Houston is the best-kept cultural secret in the country.
"Individuals might be working in the corporate world, but they might also have a passion for the arts. So we want to make sure that they know about what's going on in the arts, that they feel like they're connected in as much as possible. The level of commitment through individuals and corporations here—there's a level of civic pride and civic investment in Houston that just doesn't exist in other American cities anymore. The difference is we haven't been telling our message outside of Houston."
The Greater Houston Partnership recognizes the economic contribution the arts make to the city in a luncheon next Thursday at the Hyatt Regency.
Ed Mayberry, KUHF Houston Public Radio News.