It resembled an airplane standing on its tail and was attached to a huge cylinder the size of a grain silo, and a pair of slender rockets. The winged shuttle orbiter, the size of a commercial jetliner, had a cargo bay that could carry new satellites into space, or retrieve ailing spacecraft for repair. The orbiter's three engines would deliver almost 4.5-million pounds of thrust at lift-off.

"Five, four, we've gone for main engine start, we have main engine start, lift-off of America's first space shuttle, and the shuttle has cleared the tower."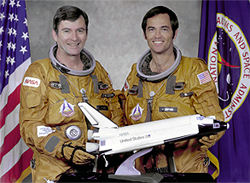 Space Shuttle Columbia was commanded by John Young, one of the world's most experienced space travelers and co-piloted by a rookie named Bob Crippen. They took a long distance call from Vice President Bush at the White House.
Bush: "Hey listen, I'm glad to talk to both you and 'Crip'. How's he behavin'?"
Crippen: "I'm trying to behave pretty well, Mister Vice President."
Bush: "Well listen, it's a far away from where when we were doing our running down there in the Cape, but I certainly want to congratulate you. I've just come from seeing the President, and he asked me to convey his warm regards, and we are proud not just of you all, but of all the people that are supporting this fantastic mission."
The shuttle astronaut corps included for the first time…minorities and women including Sally Ride and Eileen Collins.
Collins: "I sort of see myself as a child of the space program, and I grew up admiring the early astronauts. The astronauts were hugely famous across the country and, were the rock stars of the 1960s and, people really admired their bravery."
But tragedy struck the shuttle program when Collins applied. She says she was apprehensive after she was named to command the historic return to flight mission.
"Of course I was concerned. We weren't going to fly again until we found the cause of the accident, and it was the foam that was falling off the external tank that hit the shuttle's thermal protection system. We were very very confident that we were going to have a safe mission."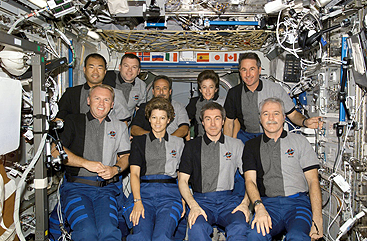 Former shuttle astronaut Loren Shriver is vice president and chief technology officer of United Space Alliance. It is under contract to operate the space shuttle fleet and the international space station. He says President Bush's Vision for Space Exploration calls for NASA to focus on returning humans to the Moon by 2020 after the shuttle fleet is retired and the space station is completed.
"Human space flight is a delicate, uh, well worthwhile endeavor, but you've got to pay attention to the detail."
Shriver says the new directive will define and guide U.S. space exploration for the next generation.
Pat Hernandez, KUHF…Houston Public Radio News.