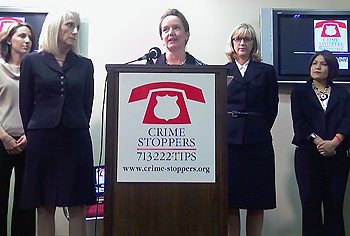 Citizens who know the whereabouts of domestic abusers are encouraged to report them. It could be worth five thousand dollars. October is domestic violence awareness month. Katherine Cabaniss, executive director of crime stoppers, says a month long initiative is underway to arrest felons wanted for committing domestic violence.

"Crime stoppers and the harris county district attorneys office will be featuring felons every single day. These felons that we are featuring, are felons who have committed acts of family violence. They have hurt somebody. Someone who loves them, someone who cares about them, someone who is a family member in their home. There may be children in that home. These are offenders who are wanted for crimes against family members and we are asking you, citizens, to help us locate and arrest them."
Jane Waters is with the Harris County District Attorney's Office. She says tips to Crime Stoppers resulted in the arrest and prosecution of over 600-felons.

"The range in punishment is the same, whether it's a family violence case or another type of violent offense. Hopefully, the idea being that our goal is to hold the person accountable and to keep the victim as safe as long as possible. We evaluate each case on a case by case basis and determine what's best for that victim and for that offender to help society and keep the community safe."
According to the Texas Department of Public Safety, there were almost 34-thousand incidents of domestic violence in Harris County last year. 17 resulted in death to the victim.