The Department says it issued 13-hundred citations and made over 400 arrests after a curfew was imposed following the hurricane. Chief Harold Hurtt credits great planing and the experience of Hurricanes Rita and Katrina.
"We had people in place. We had the knowledge, we had the plans, we knew exactly what to do and I was very pleased to see how well that we were able to respond to the challenge. This was a tremendous storm. A lot of damage, winds, trees down, electricity out, people were without water, food, ice, lights, uh…pretty severe."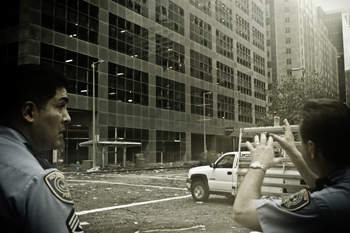 Joe Fenninger, is the HPD's chief financial officer and deputy director. He's charged with compiling the cost incurred.
"The overtime for Houston Police officers will be about 15 and a half million. Outside police officers, the contract cost for the outside, a little less than a million and a half. Altogether, the other costs about a million two. Grand total, we don't think that we will exceed 19 million dollars. The 19 million, all of these costs that I just mentioned to you are costs that we will be applying to FEMA for reimbursement."
Extra law enforcement personnel came from the Texas Alcoholic Beverage Commission, the Department of Public Safety, and the cities of Dallas, Ft Worth, San Antonio, Austin and Mansfield. They're expected to leave Houston by the weekend.
Pat Hernandez. KUHF-Houston Public Radio News.