"One of my concerns is that I think we need to go through our 311 requests and find out where those hanging traffic signals are…"
There were more than thirty items on the city council agenda, but the most talked about subject was Hurricane Ike.
Councilwoman Wanda Adams.
"…recently one of the traffic signals fell, and just so happens that the car it fell into was a friend of mine's father."
"As I was driving around this morning…"
Councilman Mike Sullivan.
"…Thank you, thank you, thank you for getting our debris picked up."
Mayor White even took special time out to talk to reporters on just the storm. He says crews are working twelve hour shifts to get the lights working at intersections and to pick up all those fallen trees. But there's still a lot or work to be done.
"If you took this stuff, and piled it up onto football fields, to six foot high and there would be at least 390 football fields and counting—and there'd be more than that. We are taking about a massive amount of debris."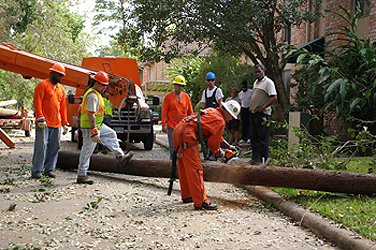 But with crews working overtime…the mess is getting picked up…and faster than you think.
White: "Get this, according to FEMA in some thirty years of FEMA by last Sunday the City of Houston set an all time-one day record for debris removal than anything that's been done in the United States of America."
Bill Stamps KUHF Houston Public Radio News