Centerpoint Energy says it's pretty much on track with its original estimation of the pace of power restoration, and expects to have almost all power restored by Sunday. The exceptions would be individual customers with line problems leading into their individual homes, if there has been any damage. The focus has been on transmission lines and substations, which feed the distribution poles into neighborhoods. Centerpoint's Tom Standish says downed trees have been the main problem.
"This is very much a tree outage, falling into the infrastructure, getting into the wires, pulling the wires down, in some cases breaking the poles. We have to get tree trimmers into the system to get all of this stuff out of the way and then linemen in to pick up the wires that the trees have pulled down. So necessarily, in our whole plan which is getting the most people on as quickly as we can, those that suffer individual damage to their property are going to be at the very tail end of getting this picked up."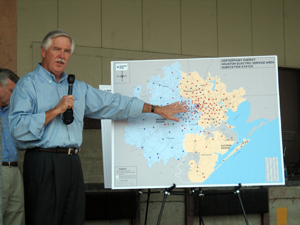 Centerpoint's David McClanahan has preliminary numbers on the economic hit the hurricane caused to Houston's power infrastructure.
"Gonna cost $350 million to $500 million. You cannot buy transmission and distribution insurance, so we have no insurance premium in our rates. So what we do is we recover these costs after the fact. And we recover it over, let's say, 14 to 15 years. Based on that kind of recovery period, this will be between one dollar and two dollars per month impact on our customers."
Centerpoint says about 5,000 wooden poles are being replaced, which is only about one-half of one per cent. No transmission towers needed replacing, and no transformer towers were destroyed. Most damage has been caused by tree limbs at the neighborhood distribution level.
Ed Mayberry, KUHF Houston Public Radio News.