Samurdhi Jayaweera had a hard time finding a ballet company that would provide her with the experience she wants — to learn to help dancers take care of their bodies.
"In school all you get to work with is like football and basketball and soccer and stuff. So, I thought it would be really cool to find something like this that gives you a different perspective on athletic training. So I talked to my advisor and he said 'yeah, you know just email ballet companies and see what you get back' and I did that back in December over Christmas break and a few months later Houston Ballet wrote me back!"
In fact, the Houston Ballet was the only one that wrote back or had any kind of internship for Sam's specialty.
They offered her one-on-one coaching with an athletic trainer through the Methodist Center for Performing Arts Medicine.
"I've been working a lot with the Academy Intensive Program kids, they're about anywhere from ten to 19 years old. I've been staying at the dorm with them, so I get a lot of them knocking on my door saying you know 'this hurts', 'can you tape up my foot?', 'what can you do for me?' When they say 'this is what I was doing and this is when it happened' I'm just like oh yeah, I know how that might have happened and does this feel better."
And she has the opportunity to work with some of the nation's finest dancers, like Houston Ballet principal dancer Ian Casady.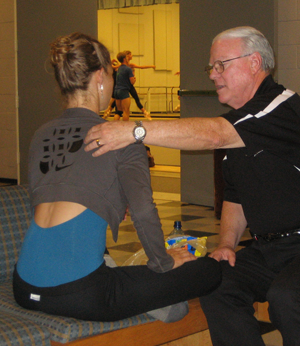 "It kind of gives me and all of us different ways of using our bodies when we're not dancing to kind of keep ourselves conditioned or deal with any injury or anything like that, that we might have. Different exercises and stretches and things like that. The physicality of it is just as intense as sports, so they're bringing that perspective and that experience to this art form."
Sam is a native of Sri Lanka. She came to the U.S. to complete her undergraduate degree. The people who run the athletic program at the ballet are so impressed with her work, they plan to offer her a job when she graduates. She says she never imagined she'd get these opportunities.
"I thought I'd end up working a wrestling camp or something…in Minnesota. That's what I was expecting to get."
Laurie Johnson. KUHF-Houston Public Radio News.