Green toured the site located on the western bank of the San Jacinto River and just north of the I-10 bridge. The 20-acre tract of land contains three disposal pits that received waste from a paper mill in Pasadena.
"Having grown up in Houston, I remember waking up and smelling the paper mill every morning. That along with my creosole plant that's over on Hardy Street there that's now is encapsulated in concrete or, at least the ground, because it was so bad."
The property is no longer being used for disposal, but Green says there are now contaminated sediments in the San Jacinto River.
"No one would ever imagine that, if you look just to the north of I-10 bridge at the San Jacinto River that there's a containment vessels that are underwater, that are leeching dioxin into the Houston Ship Channel and Galveston Bay, and that's the problem."
A consumption advisory based on dioxin is in place in the vicinity. Stephen Tzhone with the Environmental Protection Agency, is the remedial project manager for the San Jacinto River Waste Pit site.
"We do not have immediate threats, we have potential threats, and that's why we're going through this process. We have a health advisory that basically talks about the consuming the fish, and we try to warn the folks about only consuming — I believe the health advisory say(s) one fish a month. So, right now, we're dealing with the potential threats."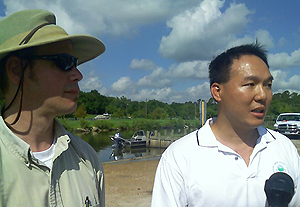 Marshall Cedilote with the Texas Commission on Environmental Quality, says putting the site on the National Priorities Listing will help in cleanup. But the lengthy superfund process is just beginning.
"It's impossible to give a timeline because, until you know the full nature and extent of the contamination, it's impossible to say how long it would take to clean it up and by what method."
Congressman Green assumed the chair of the Environment and Hazardous Material Subcommittee. He says his goal is to have the site cleaned up.
"The concern I have, and the reason we got involved earlier is that I have a lot of constituents who fish and use Galveston Bay as recreation, and there are signs posted lot's of different places, encouraging people not to eat the fish. Those warnings have been there for many years and it's not getting any better."
Green would like to have an overview of the EPA superfund around the country to determine the best way to clean up the site and in the quickest time possible.
Pat Hernandez, KUHF…Houston Public Radio News.
Above images, starting from the top:
Image 1: Houston Democratic Congressman Gene Green with Marshall Cedilote with the Texas Commission on Environmental Quality.
From the right to the left: Image 2: Marshall Cedilote with the TCEQ and Stephen Tzhone with the EPA.