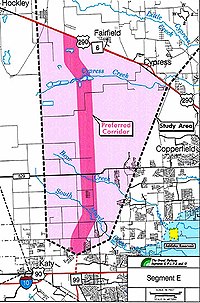 The contracts involve section design and surveying and right of way mapping services for segment E of the Grand Parkway. That runs from I-10 west to Highway-290. Before the vote, opponents like Brant Mannchen with the Houston Sierra Club, tried to convince Commissioners to reconsider the toll road that would cut through the Katy Prairie.
"Our concern is: let's put the dollars where the people are, and the people currently aren't out on the Katy Prairie. Let's take care of the existing transportation problems, and… like Hempstead Highway managed lanes, or commuter rail on 290, or if there is some connection needed for north and south. There are some existing roads that you can connect up to 290 and do that."
Jon Boyd with the Citizens Transportation Coalition says the plan doesn't address the rising price of fuel.
"It's important that we evaluate the circumstances like, four dollar a gallon gasoline and going up. We need to plan for that expensive gasoline and diesel future, and I think by building roadways that force people to drive more rather than less, you're actually inducing them to consume more fuel."
Boyd says they don't object to long range planning , but they question the wisdom of the kind of planning that's being done.
"We have a saying that we use a lot with the CTC is 'we believe in building roads where the people are'."
Emmett: "I understand when people say gosh, there's nobody there right now."

Harris County Judge Ed Emmett:
"There wasn't anybody around Beltway-8 when it was built and there wasn't anybody around Loop 610 when it was built, and in fact, the railroad track that runs just inside of Loop 610 between Bellaire and West University and up through Memorial, that was moved out there years ago to get it completely out of the city of Houston. So, we always have to have to try and stay on top. The other thing that I did mention, the Urban Land Institute did their recent study — and I served on that panel to review what they did. They're really anxious to have employment centers connected where everybody doesn't have to come downtown. That's one thing segment E would do a lot for."
Harris County has already pledged 280 of the 540-million dollars of county revenue for the project. It's scheduled for completion in 2011.
Pat Hernandez, KUHF, Houston Public Radio News.