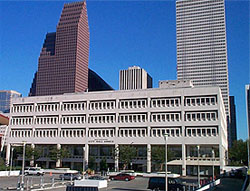 Walk into the City Hall Annex, turn right, wind through a maze of cubicles
and you might discover the Mayor's Office of Veterans Affairs.
I say 'might' because it's essentially a one-man department tucked into a
closet-sized office.
Buddy Grantham runs that one-man show (he does have an assistant).
He says it takes time to catch up to the needs of each war.
"Houston is ramping up also. That's part of this office. This war has been going on for a little bit, it was not until this summer of 2007 that the Returning Veterans Initiative started and Houston is rapidly gaining ground on the situation."
The Returning Veterans Initiative is a project that was coordinated between
the city and Harris County.
It's basically a booklet—47 pages filled with text and phone numbers.
Perhaps 'initiative' is an apt title.
You need a good dose of it to wade through all the information.
That's one of the first things that needs to be flipped upside down,
if you ask Anthony Love with the Coalition for the Homeless.
"Our VA, in particular, has to go to the veteran. We can't sit there and wait for the veteran to come to them. They have to go out and reach out to that veteran to get those services and get that assistance to that veteran coming back into our community."
The local push to improve the lives of veterans is evident.
The Houston Police Department has started training with mental health
professionals so that officers know how to respond to veterans who
exhibit erratic behavior.
The VA is increasing its mental health coverage with support
groups for vets and their families.
And the city is partnering with small businesses to look for jobs that
can be performed from a wheelchair or from home for disabled vets.
This region is attempting to improve its services.
And Houston Council member Melissa Noriega says the attitude here
toward veterans is one of hope and acceptance.
"I just think Houston's the most amazing town. And I would like to see us just add one more layer in terms of our awareness. And I think we're going to have them here, they're going to come here because they're going to be able to support and take care of their families here. And so I think we — I think that there's a debt of honor."
Laurie Johnson. KUHF-Houston Public Radio News.