People with HIV, cancer, diabetes and other chronic illnesses often have numerous side effects from the drugs they take. And expensive medical treatments make it hard for sme to pay for extras like vitamins and supplements. But as Houston Public Radio's Laurie Johnson reports, the Houston Buyers Club is a non-profit that helps the chronically ill people manage their diseases.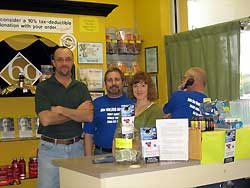 The Houston Buyers Club looks like any other nutrition store. But all the vitamins and supplements are sold nearly at cost. Any mark-up on the products goes to cover overhead. Fred Walters is the founder of the organization. He says they partner with physicians to help patients manage their disease and drug side effects.
"The doctors that send people here to us, tell us that they weren't trained about nutritional supplements in school. They got maybe one day in nutritional supplements and it had to do with the basics like a multi-vitamin. But the new science that's coming out now, doctors aren't exposed to it. So we are a resource for not just providing evidence-based supplements or protocols, but we are reliable for physicians because we can produce the studies that they want to see."
Walters says they don't prescribe supplements to people. They only make recommendations or give advice. Kim Pottlitzer is a Registered Dietician Intern. She works at the store as a nutritional counselor.
"Since it's not something that's regulated by the FDA, there's not always the huge studies out and so that's what I think makes people skeptical. But there is research being done and even research in Houston. They're using evidence-based studies. It's not something hoaky or like witchcraft — I don't know somtimes I think people get the wrong impression of herbs and supplements thinking it's not something that's real science."
But Walters says it didn't start out based on science. He started the store 13 years ago. That was shortly after he was diagnosed HIV positive.
"When we started doing this, mothers would come in with their sons and after they would leave oh my God, I would just — I would just think of my own mom bringing me in and it would just tear my heart out. So I think back then we didn't really know. We were just grasping at straws."
And a decade of research has caught up with Walters, proving his theory. The Houston Buyers Club is located on Yoakum at Westheimer.
Laurie Johnson. Houston Public Radio News.