Federal judge hears BP apology for 2005 Texas City refinery blast, hears victim impact statements, considers plea agreement…President Bush unveils $3.1 trillion budget proposal…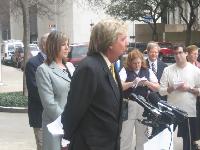 A federal judge today heard arguments over a plea deal to resolve the criminal probe into the 2005 BP Texas City refinery explosion. BP has formally pleaded guilty in an agreement over its criminal conduct connected with the deadly explosion. Current Texas City Plant Manager Keith Casey entered a guilty plea on behalf of BP, saying the company had failed to protect its workers. Casey also apologized. Relatives of the 15 workers killed and 170 injured in the blast are protesting the deal with the Justice Department that would have BP pay $50 million. Eva Rowe's parents died in the explosion.
"I want everyone to know what I am thinking at this moment. I think this plea agreement stinks! If the purpose of punishment is to give incentive to the wrongdoer to change their ways and do the right thing, this agreement utterly fails. Fifty million dollars is less than one month's worth of profit for this one BP plant."
Rowe's attorney Brent Coon says the settlement is too low, and doesn't include jail time for anyone.
"We opposed this settlement agreement because the numbers are way too low for a company that has made so much money off the lives of these workers. No one's going to jail for these 1`5 counts of murder, and that's wrong. And while we appreciate what the Department of Justice has done with respect to this investigation, this plea agreement is far too lenient. The fines are not severe enough for a company that made a billion dollars a year profit at that one plant alone."
Dave Senko worked as contract manager of 11 of the 15 workers killed in March 2005.
"BP has pled guilty to knowingly failing to notify the contractors at the site that it was going to start up the ISOM unit on March 23rd. I was one of the people entitled to that notice from BP. Had BP informed me that it was going to start up the ISOM unit, I could and would have gotten my people out of harm's way. But I was not in Texas City on that tragic day. Had I been in Texas City on March 23rd, I would have been killed in the trailer along with my friends and would not be here speaking to you today. The pain of having people I was responsible for killed, in such a tragic and avoidable way, has left me personally devastated."
BP is spending $1 billion to overhaul the Texas City plant, including replacement of blowdown stacks with flares that burn off vapors. The company has spent $1.6 billion settling more than half of about 4,000 civil claims.
---
President Bush has unveiled a $3.1 trillion budget proposal that supports a sizable increase in military spending to fight the war on terrorism and protects his signature tax cuts. Bush reviewed the budget with his cabinet. He held a computer tablet that contained the budget details, which were transmitted electronically to Congress. He called it "a good, solid budget." The budget proposal, which shows the government spending $3 trillion in a 12-month period for the first time in history, squeezes most of government outside of national security, and also seeks $196 billion in savings over the next five years in the government's giant health-care programs: Medicare for the elderly and Medicaid for the poor. Democrats called Bush's final spending plan a continuation of this administration's failed policies which wiped out a projected ten-year surplus of $5.6 trillion and replaced it with a record buildup in debt. For his last budget, Bush, as a money-saving measure, stopped the practice of providing 3,000 paper copies of the budget to members of Congress and the media, instead posting the entire document online at www.budget.gov. Democrats joked that Bush cut back on the printed copies because he ran out of red ink.
---
More than $3 billion collected in state fees and taxes for specific purposes will not be spent on those programs during the 2007-2009 budget period in Texas. More than 200 accounts hold state fees for dedicated purposes, ranging from parks to clean air programs and trauma care. Supporters of some of those programs say the dedicated funding would be useful right away. Governor Rick Perry called on lawmakers last year to stop collecting dedicated fees unless they're allocated for their intended purposes. Representative Warren Chisum of Pampa–chairman of the House Appropriations Committee–says lawmakers didn't divert the dedicated funds to other programs. He says in some cases the fees raise more money than is appropriate to spend.