"I worked with my father for over 30-years and he developed the meteorology department at St. Thomas University. He had a non-profit there called the Institute for Storm Research."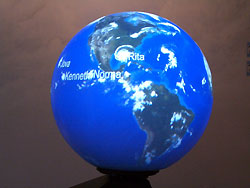 And then in the late 80s John Freeman and his daughter founded the Weather Research Center. It provides forecasts to oil industry clients around the world. Its offices are above the museum that Freeman always wanted.
Maureen Maiuri is a meteorologist and the museum's curator. One of the interactive displays is the WRC TV studio where visitors can be a television meteorologist.
"We can be in a blizzard, a flood, a hurricane or a thunderstorm, so we do have the green screen, there's a teleprompter with a script, and you can be your own weather forecaster."
There's a tornado chamber that was built for the museum by the National Weather Service in Corpus Christi.
"There's water in the bottom of the chamber and once I turn on the switch the device at the bottom will turn the water into water vapor. There are holes in the sides of the chamber blowing in two different directions so that's what helps start the rotation, and it all gets sucked up from the top to the bottom. Now, it's not technically how a tornado forms but it least gets you to see the vortex and rotation of a tornado."
You can also test your weather knowledge on a flat panel TV. The first question in the Hurricane quiz is 'what are hurricanes called that form in the Indian Ocean'?
"The answer is cyclones. What is the most active month in the northern hemisphere for hurricanes June, July, August or September?
(Reporter) September.
September is correct; we are in the peak of hurricane season. The calm center in the hurricane is…
(Reporter interrupts) Eye.
(Laughing) Very good you got that one right, the eye."
And the really neat thing, which radio just can do justice, is an 18-inch sphere that shows weather patterns, events and phenomena around the world at various times. Its computer program can do the same for other planets and moons. It is very cool but you'll just have to there to see it!
If you know a young person bitten by the weather bug you know they can be obsessive about it. Jill Hasling says for them there is weather camp.
"They get to interact with a meteorologist, and we have different sessions, one on tropical storms and hurricanes, one on severe weather and chasing tornadoes. We're going to do winter weather over the Christmas break and in the spring time we'll do severe weather."
Hasling says weather camp has also become popular with adults. You'll find a link for the country's only weather museum, hidden in Houston, at kuhf-dot-org.