In a two-story, tan building about 2,000 miles from what's considered the earthquake capital of th United States, the San Francisco Bay area, sits a 40-ton earthquake machine. That's right, an earthquake simulator in Houston, Texas. As Houston Public Radio's Jack Williams reports, the giant "universal element tester" has been a part of the University of Houston campus for more than two decades.
You might expect an earthquake simulator to make a lot of noise, but not this one. About 15 feet high and made out of four different huge steel components, the UET, as it's known, simply hums.
"The only noise comes from the pump. You hear that pump, the pump that supplies the oil pressure to the jacks."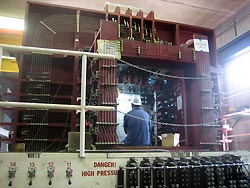 University of Houston Engineering professor Thomas Hsu has worked around his simulator since 1986, when the National Science Foundation gave him a $700,000 grant to build it and use it to test reinforced concrete elements. The machine uses 40 hydraulic jacks, 10 on each side, to subject concrete elements from buildings, bridges, oil platforms and other structures to incredible stresses.
"Each jack is 100 tons, so that means that you can have a 1,000 tons in each direction to crush the concrete. A car weighs about 2 tons, so that means our ten jacks can hold-up the weight for 500 cars."
The machine is able to duplicate different forces concrete structures are exposed to during an earthquake, things like bending, shear and torsion. By testing reinforced concrete to failure, he's able to determine how much stress an element can handle. Hsu estimates he's tested about 140 pieces of concrete over the years, with each test taking up to a month or more.
"Once you understand how the structure works then you can build the structure in the mostcost-efficient way and also the most safe. The safest and most cost-efficient way."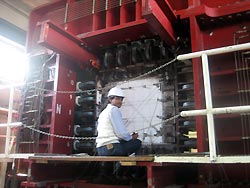 So why Houston? Hsu says it doesn't matter where the machine is as long as the information can be passed-on to engineers and researchers all over the world.
"In this day and age, everything is globalized. This machine is good for Texas of course, but the research is also good for the whole world actually. It's the idea that's important and so the fact that it happens to be in Houston is incidental."
Hsu and his research colleague, civil engineering professor Y.L. Mo, have also worked with the Texas Department of Transportation to test bridge and road components. You can see pictures of the Universal Element Tester on our website, KUHF.org.