Okay, maybe this one should be 'idden in 'umble, because that's where it is, and it really is hidden. Just west of the EastTex Freeway on FM 1960 if you turn right at the light on Kenswick it looks as if you are entering a subdivision and you are, but if you go straight you'll drive right into the Jesse H. Jones Park and Nature Center.
"We like to say that we're kind of a window on the natural world here at Jesse Jones Park."
Michael Howlett is a naturalist and herpetologist at the park.
"We have 300 acres, however right across the creek; until the area becomes developed we have literally thousands of acres of undeveloped land on the Montgomery County side. And because of that Jesse Jones serves as a window where you can see things like Bobcats and Coyotes and all those kind of predatory animals that you might not think of seeing, 20 minutes from downtown Houston."
There are five miles of paved trails that wind through the park. At its western end the Cypress Boardwalk Trail carries you over standing water and past some very old Cypress trees.
"That tree was there before the Declaration of Independence was signed. It's been here for hundreds of years and yet a lumberjack could come out here with a chainsaw and cut that tree down in five minutes."
The woodland is in a flood plain and so there is often standing water and that means mosquitoes.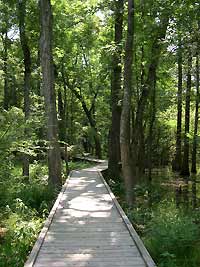 "We try to leave these areas natural so that the native wildlife can take advantage of all those mosquitoes as food. Of course sometimes the mosquitoes take advantage of us as food as well. Insect repellant is highly advisable in the summertime."
I'm not a naturalist but I'd say mandatory-you don't want anything to distract you from the natural beauty and sounds under the cool canopy.
"You can hear a wide variety of insects up in the trees and depending on the weather and the time of year we have an amazing diversity of bird life as well."
In fact Michael Howlett says the park has nesting Swainson's warblers, a bird that likes to live in difficult to access places. He says because of the boardwalk birders from around the world flock to Jesse Jones Park.
"They show up at the nature center window with their birding field guide; some of them don't even speak English. They'll point at the picture of the Swainson's Warbler and shrug their shoulders and we get out a map of our trial system, we take a highlighter and show them where we've heard the Swainson's Warblers are nesting or being heard that year."
But it's not just plants and wildlife, the park has many activities throughout the year; you'll find a link at kuhf.org. Some include costumed volunteers at the authentic Redbud Hill Homestead and Akokisa Indian Village who demonstrate what life in Texas was like in the early 19th century.
The Jesse Jones Park and Nature Center is truly hidden but it is a natural gem worthy of discovery.