A medical office building in Webster is utilizing a grass and soil-covered roof for energy efficiency. Houston Public Radio Business Reporter Ed Mayberry visited the water-retaining green roof with the landscapers who installed the plants.
The building at 251 Medical Center Boulevard was built with a green roof in mind, according to Bruce Gunderson with Picture This Landscape.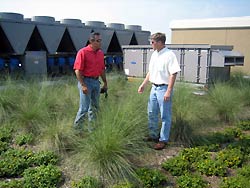 "Well, a lot of people ask me, 'well, do you have to cut the grass?' because it's not really a grass, as you can see now that you're up here. It's grassy-type plants, but it's not really a turf or lawn or anything that you can cut, so basically, it's just a matter of making sure that you keep the weeds out. You're not going to get a whole lot of that. The only way it could happen is if we get wind that can blow seeds up this highor maybe birds bring it in. and actually last spring, as soon as we got this projet in, we were amazed some of the birds that were chasing us around when we were walking aruond because they were already nesting here." Ed: "What did you have to do, what modifications did you have to bring to the building to be able to handle the water, you know, coming and going, that kind of thing?" "Well, the drains were already set in place. About a four-inch layer of foam had to be installed on top of the roof. This roof is not flat–it has many slopes. And there's about 30–correct me if I'm wrong, Leonard–about maybe 32 drains on top of this building?"
Leonard Moncivais worked with Gunderson to establish the soil and plants on the rooftop.
"See, if you notice right here, we're on, this is one of the high points. Everything flows that way and this way. Again, from that side, it flows to the middle also, where you have–I don't know if you could see that swell?" Ed: "Does this type of business lend itself, you know, this medical sort of community here lend itself maybe to trying something like this than maybe other kinds of industries?" "I think people, especially going through some kind of rehab or that need to be in a hospital but can get up and walk around, this would be great for stuff like that. Or you can come out and enjjoy a garden without actually leaving the building."
Gunderson says the landscape on the roof looks great when you're up there walking around, but it also looks good from the sky.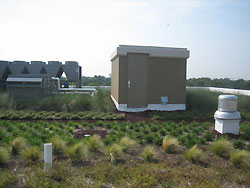 "And we thought well, gee, we could lay it out and measure it and it should look just fine from here, you know, as we'rewalking on top of it. What is it really going tolook like from the air when a helicopter flies over it? And that was really our main concern–will it show all of our flaws and everything, but it really turned out to be very nice, and you can see everything turned out to be very symetrical and it worked out."
The property is designed to collect rainwater, filter it, and pump it up to the roof for irrigation.
"The structure is such that this thing can retain up to maybe 12 inches of water on top of the building and so there's a heavy load that they had to calculate all the engineering and so forth so that it really becomes a lot more energy-efficient. So they found something called an Inca retaining drain, is what they call it, and it's a filter fabric that they layed out on top of the liner. It has springs on top of that so the water can actually filter through. It retain the soil so the water can freely flow quickly to the drain. But it seems to be working very efficiently."
Ed Mayberry, Houston Public Radio News.