Residents in a neighborhood on the city's west side say the expansion of a road near their homes will wipe-out 200 year old oak trees and could create a safety hazard for students at a nearby elementary school. But as Houston Public Radio's Jack Williams reports, planners say the expansion is long overdue.
Donna Freeman knows this area. She's lived here for most of her life and is proud of a small creek and patch of woods just off of busy Bunker Hill Road, near the intersection of the Katy Freeway and the West Belt. It's the site of an old German homestead.
"The birds are still there, but they're farther back now just where it's a little quieter. You'll see the herons. There's just tons of birds because there's water."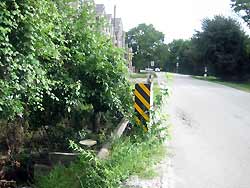 Freeman and other residents in the Long Point Woods neighborhood say those trees and birds might not be there for very long. The planned expansion of Bunker Hill Road between I-10 and Long Point from two lanes to three and four lanes is expected to begin early next year. Now neighbors are in a battle with the local Tax Increment Redevelopment Zone board and the city to re-think the project.
"They promise that there's only going to be a certain amount of trees that are going to be lost. We think there's going to be a great many trees lost and some of the big, oldest trees. I think it's going to devastate parts of this area and we all feel that way."
Freeman and others also say students at nearby Wood View Elementary could be at risk from the increased traffic on a busier road. Robert Fiederlein helps oversee the city's 22 Tax Increment Redevelopment Zones and has been a part of the Bunker Hill Road expansion process. He says the city has done what it can to balance the needs for mobility and those of the neighborhood.
"It's essentially a two-lane country road that connects the Katy Freeway with Long Point, which is a city major thoroughfare and there's an awful lot of traffic right now and with the development that's occurring along the Katy Freeway, there's a tremendous need for the expansion of this road over the vast majority of the project and through the residential area. We're not acquiring any right-of-way. The city set this right-of-way aside just for this purpose."
TIRZ board executive director Pat Walters says planners are listening to concerns and haven't ruled out saving part of the old homestead and as many trees as they can.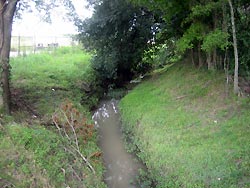 "What we do is we listen to that input and we try to accommodate as much of the good ideas that we possibly can and still have a thoroughfare that can handle traffic and increase mobility in the area."
Donna Freeman hopes to turn part of the creek area along the expanded roadway into a small park. You can see pictures of the area on our website, KUHF.org.