An important exhibit of historic Texas maps has opened at the San Jacinto Museum of History in east Harris County. This display has a number of maps showing Texas as it was hundreds of years ago, and several maps of the historic San Jacinto Battlefield, as it was on the day of the battle. Houston Public Radio's Jim Bell reports.
This exhibit has more than fifty important maps depicting Texas and the Gulf Coast from the French and Spanish exploration periods to the present day. Some are from the museum's permanent collection, but others are on loan from various public and private collections around the state. Museum Curator Liz Appleby says one especially spectacular Texas map from 1858 shows the state's explosive growth in its early years just before the Civil War.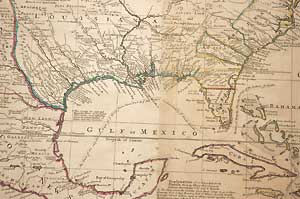 "It really from a time period where railroads were really coming into the forte and technology in Texas, and people were just spreading westward with Manifest Destiny on their mind, and really bringing counties and governments as they went along, and towns grew, rivers were discovered."
Another important map on public display for the first time is attracting the interests of people who study Texas history. It's a map of the San Jacinto Battlefield hand drawn many years after the battle by someone who was there in 1836.
"It was a man, James Washington Winters, who was a veteran of the battle of San Jacinto, in the 1880s he came out here and on a piece of paper with a pencil he drew his reminiscences of the time and where things happened. And we have up here on the board a wonderful recounting of what he remembers of the day, and these documents are first hand documents, and along with archaeology, they tell us the story of what happened at the battle."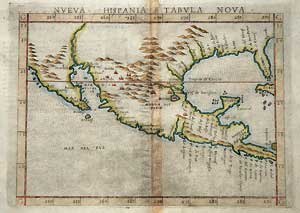 "Appleby says old maps do so much more than just show where roads and towns were way back when. They are nothing short of primary source documents that reveal the history of an area in a variety of ways. Paul Bell is descended from another veteran of San Jacinto and a long time member of the board of the San Jacinto Museum. Bell says these maps are important documents because they show how the birth and annexation of Texas changed the United States.
For the first time, a boundary was established between Texas and Mexico, which later became between the United States and Mexico, led to the Mexican War, the acquisition of the whole western part of the country."
The map exhibit is titled "Drawn From Experience: Landmark Maps of Texas," and it will be in the San Jacinto Museum of History at the San Jacinto Monument through next year.