On his 36th birthday, convicted immigrant smuggler Tyrone Williams got the gift of life from jurors who sentenced him to life in prison without parole today instead of giving him the death penalty. As Houston Public Radio's Jack Williams reports, the verdict ends a tragic saga that began in May of 2003 with the deaths of 19 undocumented immigrants at a truck stop near Victoria.
The jury took parts of five days to decide on a punishment for Williams, who could have been sentenced to death by lethal injection for his role in the immigrant deaths. Instead, the 7-women and 5-men decided on life in federal prison without the possibility of parole on 19 of the counts that could have sent Williams to death row. His attorney, Craig Washington, was grateful after the verdict.
"This is a tragedy any way you look at it. Decent people died and a decent man did a very terrible thing that resulted, in part, in the death of human souls that should have been able to live. I'm gratified by the fact that the jury decided that there were other people equally culpable."
Tyrone Williams, dressed in a gray suit, showed little emotion after the verdict, much like his demeanor throughout this trial and one in 2005 that ended with a hung jury.
"He had the reaction that I expected of him and requested of him, to remain a gentleman throughout, to understand that he put himself in this position and he had to accept the consequences for his conduct. He knew from the beginning that he was responsible for participating in a tragedy in which 19 souls lost their lives."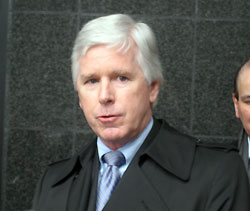 Prosecutors were somber after trying to convince the jury throughout the trial that Williams deserved to die for his actions. U.S. Attorney Don DeGabrielle says his office accepts the verdict.
"Not a single soul should have perished in the back of that trailer. Nineteen nevertheless did and two children. Nothing that we can say today can bring those lives back. This sentence that is imposed on Mr. Williams will not do that. But nevertheless, the system works. It has worked today and will continue to work."
In a case that drew international attention, Williams was the only one of more than a dozen defendants who faced the death penalty. DeGabrielle, whose office spent millions of dollars over two trials, says he doesn't regret for a moment going after the death penalty.
"One human-being had the chance to let these people out. One person knew the distress that was going on in the back of that trailer, and that was Tyrone Williams. He had control of them the moment they were put and locked in the back of his trailer and began frantically to get out. He was the sole individual that was responsible for either letting them live or causing their deaths."
The jury failed to decide on a sentence on 38 remaining counts of harboring and transporting immigrants and one count of conspiracy. US District Judge Lee Rosenthal will sentence Williams on those counts in August.