Building designers find ways to control heating, ventilation and air conditioning costs…Harris county Sheriff's Department hosts Career Opportunities Day…Survey indicates young adults are outpace parents and grandparents in home ownership…
A PriceWaterhouseCooper survey indicates that 65 percent of U.S. companies believe rising energy prices pose a potential threat to growth this year. Some firms are turning to facilities management specialists to control heating, ventilation and air conditioning costs. Lou Ronsivalli with Trane says architects are designing buildings to better conserve energy.
"Buildings are being designed which are using more natural resources, conserving energy, being built to take more advantage of natural outside air for cooling and providing fresh air to spaces. Buildings are being designed to take better use of the current utilities such as water. So design conditions now are a lot more concerned about the lifecycle operating costs of the facilities. What we've being saying here at Trane for the last several years is that buildings are really not just piles of glass and concrete and steel, but they're really like living organisms, and we're trying to optimize the use of those assets and what those are able to deliver to the success of the organizations they serve."
Ronsivalli says you can save money on the front end of construction by installing less efficient systems, but better HVAC, or heating, ventilation and air conditioning systems, can end up costing less in the long run.
"As you know, you can buy automobiles that are pretty functional in many areas and maybe not that expensive to purchase on the front end. But then the gas mileage and other considerations sometimes make it a costly endeavor to own them. Same thing in talking about HVAC systems–a lot of them are traditional smaller systems, are less expensive to buy and install on the front end, but cost a lot more in maintenance, replacement, capital improvement and energy throughout the life of that building than it would if they bought a different type of system. So systems are available to be looked at–sort of in a lifecycle way–that would allow the optimal operation and optimal efficiency of those systems to really determine what the lifecycle costs will ultimately be over a 25-year span where they serve that building."
The U.S. Department of Energy and the Environmental Protection Agency have collaborated to upgrade the level of design development.
---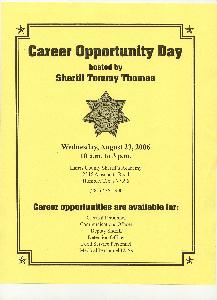 It's Career Opportunities Day at the Harris County Sheriff's Office at its academy on Atascocita Road. Sheriff Tommy Thomas will join department representatives from department divisions, providing information on career paths such as communications officer, clerical, deputy sheriff, detention officer, food services and medical. Other department representatives will showcase the Mounted Patrol, K-9, Marine Division and DARE. Additional details are online.
---
Young adults are outpacing their parents and their grandparents in home ownership, according to a newly-released survey. Coldwell Banker Real Estate says a study it commissioned of Americans earning at least $75,000 a year found "each generation outpacing the home purchase trends of the previous generation." Overall, 58 percent of respondents have owned more homes than their parents did when their parents were at a comparable age, according to the study.
---
American Airlines has launched a Web site to promote its bid to fly nonstop to Beijing from Dallas-Fort Worth International Airport next spring. Fort Worth-based American, Houston-based Continental Airlines, United Airlines and Northwest Airlines are competing for several new U.S.-China round trips per week. All four airlines already offer flights to China. The U.S. Transportation Department is expected to pick a winner early next year, with the flights beginning in March. The Web site includes an electronic petition supporting American's application. It also shows cities with service to DFW, which would be the only airport in the southern states with flights to China. American already flies between Chicago and Shanghai. Continental links Newark, New Jersey, and Beijing. United flies to China from Chicago and San Francisco, and Northwest flies to China through Tokyo from several U.S. cities.
---
Katz's Deli is opening the first spin-off of his New York-style deli October 15th in The Woodlands on I-45 North in the Portofina Center. The new Katz's Express will serve the same food as its Westheimer location. The original Katz's Deli is in Austin.