The State of Texas is unveiling a new and faster way for divorcedparents to get their child support. The old "child support check" has been replaced with a debit card. Houston Public Radio's Jim Bell explains.
It's called the Visa Texas Debit Card, and here's how it works. The Harris County District Clerk's office will deposit monthly child support payments into a special account set up for qualifying custodial parents, who get the Visa debit card they can use to buy things and withdraw cash anywhere in the world. District Clerk Charles Bacarisse says doing it this way solves a problem they didn't know they had until last summer.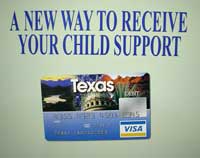 "During Hurricane Katrina my office was very very busy helping child support recipients in the state of Louisiana who had evacuated here to this region. Many of them were receiving their child support with a paper check, and we had to redirect hundreds and hundreds and hundreds of child support payments to a post office box here in the the Houston area."
Bacarisse says the debit card is available only to parents getting court-ordered child support who don't have bank accounts, and about 40 thousand people in the eight county Houston region qualify. He says getting word of this out to those people is his next job.
"We'll be doing things throughout the summer. We will seek to cut public service announcements with famous Houstonians, to help them educate our community on the reason to go this way."
Bacarisse says the state is rolling it out in the Houston area first to work out the bugs and fine-tune it before making it available statewide, which should happen in September. Jim Bell, Houston Public Radio News.