Baker Hughes employee shot dead in Nigeria…Credit Suisse Securities reaches settlement with Enron…Houston's Purchasing Manager's Index indicates 40th month of strong economic growth…
A Houston company confirms that one of its workers was shot dead in a drive-by attack today in Nigeria. Authorities say a motorcycle-riding gunman fatally shot an American oil worker in Port Harcourt in southern Nigeria. Houston-based drilling equipment maker Baker Hughes confirms that the victim was one of its employees–but it declined to identify him until the worker's family is notified. Police say the man was riding in a car to his Port Harcourt office when he was shot. They say they have no further details. The U.S. embassy in the Nigerian capital Lagos says it's investigating the report. Company officials couldn't be reached for comment. A militant movement said yesterday they'd target oil workers with fresh attacks. But it's not clear if today's killing was linked to the threat.
---
Credit Suisse Securities is the latest financial institution connected with Enron to reach a settlement. Credit Suisse has agreed to pay Enron $90 million to settle its portion of a "megaclaims" lawsuit. Enron filed a suit alleging 10 banks "aided and abetted fraud" and could have prevented its collapse. Credit Suisse did not admit liability or wrongdoing in the settlement. The agreement must be approved by a U.S. Bankruptcy Court in New York. Enron filed for bankruptcy in December 2001 amid questions about its accounting and financial state. Enron's founder and former chief executive are on trial in federal court in Houston, accused of fraud and conspiracy. Closing arguments in the case begin Monday.
If prosecutors have their way, jurors in the fraud and conspiracy trial of Enron founder Ken Lay and former chief executive Jeff Skilling can consider whether the two men closed their eyes to possible fraud brewing in their company. But experts say that if U.S. District Judge Sim Lake allows the panel to do so, convictions–if won–may not hold up on appeal. At issue is whether Lake agrees to give jurors a so-called "knowledge and deliberate indifference" instruction among a slew of instructions. The instructions provide everything from legal definitions to what the panel can and cannot consider while reaching a verdict. Testimony ended this week in the premier trial to emerge from Enron's rubble. Lake will read lengthy jury instructions to the panel before closing arguments begin Monday. Deliberations are set to begin May 17th. Lake was to consider the final instructions he will read to jurors Monday at a hearing this afternoon.
---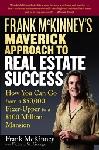 Author Frank McKinney has broken ground on what he calls the world's most expensive oceanfront "spec" home in Florida.
"We're in the process right now of designing and permitting and building a house that will be about 70,000 square feet, 14 bedrooms, 22 bathrooms and an 18-car garage, set on nearly six acres of ocened intracoastal property south of Palm Beach. Now, one of the reasons I wrote my second book is we're entering into our 20th year, and I thought it would be relevant to share some of the real estate anecdotes that I have applied over the last 20 years, where we have gone from a $50,000 fixer-upper back in 1986 to what will now be the most expensive 'spec' home–house being built without a buyer in mind–in the world, at over $100 million."
McKinney's new book is Frank McKinney's Maverick Approach to Real Estate: How You Can Go From a $50,000 Fixer-Upper to a $100 Million Mansion. He considers his completed homes as works of art, and to sell a home is like artists parting with their canvases. But McKinney says he doesn't regret selling what he creates.
"I have no remorse whatsoever. I'm never attached to anything that it is that we create. That's where the businessman comes out and says, 'okay we have created this beautiful piece of art.' I'd love to see somebody enjoy what it is we suppose that they might like. Ed , it could be monopoly money, for all I care. It's having that concept validated–somebody coming in on a Tuesday and sleeping there on a Friday. Having not seen the house before that Tuesday, and putting their head on the pillow on Friday–that's a very gratifying experience."
McKinney says his book offers advice on creating real estate markets where they had not existed before.
"Don't just learn your market, but create it. And going deeper, it states that my, or one's primary objective should always be to always find under-valued properties, under-valued opportunities, improve them, and sell them at values that set new benchmarks for the market. And regardless of price point where we were working, and regardless that it was new construction or renovating something that was already existing, that was our objective, and making that market where it hadn't existed before–that's the advocacy there, is if you want to make money in real estate, that's what you need to do."
Frank McKinney's Maverick Approach to Real Estate is published by Wiley, and all royalties go to the Caring House Project Foundation, which provides housing to homeless families.
---
The former AstroWorld site is being sold for $77 million, according to the Houston Chronicle. Six Flags reported the pending sale this weekend in a first-quarter announcement. The 104 acres have been cleared of rides, and the closing is set for early June. The park, located between Fannin and Kirby on the south Loop, closed last year after 37 years of operation.
---
The Purchasing Manager's Index for April indicates Houston's economy had its 40th month of strong economic growth. Houston's PMI has been over 64 all of this year. The National Association of Purchasing Management says employment had a significant increase in growth, factoring 40 percent higher than the previous month. Higher sales in April were reported by 68 percent of the survey participants. The index is based on a monthly survey of some 80 purchasing executives in oil and gas exploration and production, manufacturing, engineering and construction, chemicals, distribution, business and financial services and healthcare. The eight components of the PMI are sales, production, employment, purchases, prices paid and inventory levels.
---
New Mexico Tech, Texas A&M and the Gas Technology Institute will lead a group aimed at getting more oil from hard-to-reach places. The Research Partnership to Secure Energy for America says it plans to get more oil from such spots as the deep ocean and the edge of drying-out oil fields. It includes 84 universities, laboratories, companies and associations that will work in a ten-year, $50 million-a-year effort to find ways to get out more oil. The consortium will take proposals from groups nationwide to develop technologies to get at that oil and gas. Officials hope that ultimately would lower the prices at the gas pump.
---
Continental Airlines President Jeff Smisek testified before Congress that the Department of Transportation's proposal to allow foreign control of U.S. airlines is both unlawful and unworkable. Testifying before the aviation subcommittee of the Senate Committee on Commerce, Science and Transportation, Smisek pointed out the requirement that actual control of U.S. air carriers must be in the hands of U.S. citizens. He said DOT is rushing to change the "actual control" standard to entice the European Commission into ratifying an agreement with the U.S. that fails to open up London Heathrow to competitive entry by Continental and other U.S carriers.
---
A North Carolina judge today threw out a lawsuit challenging the legality of a multi million-dollar incentives package for Dell. The $300 million-plus in incentives lured the Round Rock-based computer maker to build a plant near Winston-Salem, North Carolina. The case was filed by seven taxpayers who argued the state and U.S. constitutions prohibit tax breaks for individual companies. They contend the breaks harm the public and give the firm an unfair advantage. No comment yet from Dell and the North Carolina Attorney General's office didn't immediately return phone calls seeking comment.
---
The Houston Technology Center hosts its black tie gala Thursday night at the River Oaks Country Club, honoring local entrepreneurs. More than 450 business leaders are expected to attend, celebrating the achievements of more than 45 of Houston's most recognized entrepreneurs and honoring L.E. Simmons and Matthew Simmons for their contributions. HTC is a business accelerator that assists Houston-based emerging technology companies in energy, information technology, life sciences, nanotechnology and NASA-originated technologies.
---
The International Council on Nanotechnology has concluded its two-day stakeholder workshop on nanotechnology environmental health and safety issues at Rice University. It's a follow-up to a meeting near Dublin, Ireland in late January. The next stakeholder workshop is set for the end of the year in Tokyo, Japan. The group assesses, communicates and reduces nanotechnology's environmental and health risks, based on partnerships between governments, industry, academia and non-governmental organizations.
---
The Houston Executives Forum hosted a CEO Roundtable at the Briar Club on Timmons Lane, discussing how Radio Frequency Identification technology is impacting business and the way modern supply chains operate. RFID is an automated data collection technology utilizing radio frequency waves to transfer data between a reader and an FRID tag to identify, track or locate an item. Houston companies already using RFID include Sysco Food Services, Marathon Oil, the Port of Houston, HP and Exxon Mobil, as well as Texas DOT and the Houston Public Library. Today's forum also covered the transformation the office products industry is undergoing, and tackled concerns about RFID's threat to privacy and potential usage in passports and drivers licenses.