Gas prices predicted to drop…Sugar Land firm keeps manufacturing efforts on U.S. soil…Dynegy posts slimmer first-quarter loss…
A leading expert says gasoline prices, on average, may have topped out across the country. Director of the Oil Price Information Service Tom Kloza predicts gasoline prices will drop as much as 75 cents a gallon by Labor Day. In the meantime, Kloza says there's a risk that traders may bid fuel prices higher again during tropical storm season, based on what he calls "hurricane hysteria." The fear there is that refining operations will take another hit as they did during Hurricane Katrina last year. AAA says the average price of unleaded gasoline nationally is $2.90 a gallon. The peak was seen in early September at nearly $3.06.
---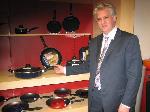 The trend may be to outsource manufacturing to places like Indonesia, Malaysia, Taiwan or China, but Tramontina USA is building a new 175,000-square foot facility in Sugar Land to keep its manufacturing here in the Houston area. Tramontina USA is the U.S. subsidiary of a Brazilian cookware manufacturer. The expansion in Sugar Land is happening after Tramontina's long-term lease of a cookware manufacturing factory in Wisconsin formerly owned by the Mirro Company. Antonio Galafassi is the president of Tramontina USA.
"I don't know if I'm setting a trend. I say like everything, business is about opportunities. I saw the opportunity, I had the vision to see this opportunity of bringing back production in the United States, is in fact, having production 10,000 miles away from the market is a big challenge. Timing, time is of essence, and the energy cost is creating major cost burden in prices, in transportation, in materials and so on. So I do believe that despite of the costs of the labor in the United States should be higher, the logistics and the strategy that you can put around, in a situation like ours, I think this is a perfect scenario where you can optimize your infrastructure and get the most productivity locally. You can be as efficient as you can be producing in China, but you have at least 45 days of transportation, added top that probably 60 days for production, and you have to talk about 90 days, 120 days delivery. I can turn around an order in the same day."
Completion work is performed here, after initial manufacturing in Wisconsin. Handles are applied and the cookware is packaged for distribution to retailers.
"The expanded part will be pretty much to, in Wisconsin we make the body of the cookware, or the vessel, like we call in the industry. In Houston we'll finish that product, and trim it and assemble handles and do the final packaging. The second part of the manufacturing. The first part of the manufacturing which is the stamping the cookware, molding the cookware, coating the cookware, being a color or a no-stick coating, that's all done in Wisconsin where we have the facility. The finishing portion of the product, the elaboration of the product, is done here in Houston."
Galafassi says making the products in the U.S. saves on transportation and fuel costs and allows the company to fill the orders much more quickly than if those products were being shipped in from overseas.
"The cost reduction from sourcing products from, from mainly China were quite substantial, so a lot of companies that they have very high overhead, a lot of management, a lot of costs in running old factories eventually they found more economical outsource these products. Well, the last several years, the cost of energy, cost of transportation and the demand of our retailers that they wanted delivery fast, being 10,000 miles from the market is not a good place to be. And I personally feel like that bringing production back to the United States brings a lot of advantage to the marketplace."
Tramontina employs around 250 in Sugar Land, with plans to add 100 to 150 more workers.
---
Dynegy today posted a slimmer first-quarter loss as revenue rose due to higher prices in the midwest and northeast. But the Houston-based company also forecast bigger losses for the year than previously expected. After preferred dividends, Dynegy says its loss narrowed by 99 percent to $4 million. The latest quarter included legal charges of $9 million. Revenue grew 30 percent to $600 million. The company said it sees deeper losses than previously expected for the year, based on recent commodity price assumptions and the cost of a new liability management program.
---
Enron founder Ken Lay and former Enron CEO Jeff Skilling are closer to learning whether their futures lie in prison or liberty. That's after testimony ended yesterday in their federal fraud and conspiracy trial after the testimonies of 54 prosecution and defense witnesses–including Lay and Skilling. Their futures will be in the hands of a Houston jury by the middle of next week. The jury of eight women and four men will return Monday to hear 12 hours of closing arguments. Enron was the nation's seventh-largest company before it spiraled into bankruptcy in December 2001 amid intense scrutiny of its accounting practices. However, Lay won't be idle while awaiting the verdicts. He has a separate trial slated to start May 18th on charges of bank fraud and lying to banks. That case is expected to last two to three days and will be tried without a jury.
---
Some Texas farmers today told a U.S. House agriculture hearing in San Angelo that the current farm bill works. They told the panel that budget constraints in Washington shouldn't add to the burdens on rural America. The 2002 Farm Bill will expire in 2007, and lawmakers are planning federal policy for the next bill. The government expects to spend $20 billion subsidizing farmers this year. About 250 people attended today's hearing–which is the only one of 12 around in the country to be held in Texas. Agriculture Secretary Mike Johanns has said about 92 percent of subsidy payments to go farmers who grow corn, soybeans, cotton, rice and wheat. But Midland cotton farmer Al Spinks told lawmakers that only small changes are needed to meet budget requirements and global trade obligations. Texans on the committee are Congressmen Mike Conaway of Midland, Randy Neugebauer of Lubbock and Henry Cuellar of Laredo.
---
A ship that sank in 1976 may be leaking oil in the Gulf of Mexico off the coast of Freeport. Officials with the artificial reef program at the Texas Parks and Wildlife Department may bring in divers to pinpoint the source of the leak–which they've been monitoring since March. About 300 gallons of oil have leaked into the water, apparently from a ship that sank in a storm in 1976 as it was on its way to be scuttled farther offshore. But state and federal officials were supposed to have removed all hazardous substances before it was towed. A Coast Guard analysis suggests the substance is fuel oil, but the reef program's officials say other checks suggest it's likely crude oil. That would be less toxic than its lighter derivatives, but it remains in the environment longer and can cause more damage. The Texas General Land Office's oil spill prevention and response team has concluded that it doesn't pose a significant environmental problem.
---
Continental Airlines tomorrow begins daily nonstop flights between its hub at Newark Liberty International Airport and Cologne/Bonn, Germany. The gives Continental four German destinations, including existing service to Berlin, Frankfurt and Hamburg.
---
Airtran Airways today began new daily service between Dallas-Fort Worth International Airport and Chicago's Midway International Airport. Airtran will make three daily nonstop flights from DFW to Midway. One-way tickets will start at $59. The carrier also flies 12 daily departures to Atlanta, Las Vegas, Orlando and Baltimore from DFW. Airtran carried more than 38 percent more passengers in 2005 than the year before, leading low-cost carrier growth at DFW. The six low-cost carriers serving DFW in 2005 carried 3.3 million passengers.
---
Hospital operator Tenet Healthcare said today it swung to a first-quarter profit, helped by a decline in expenses for bad debt. The Dallas-based company posted a $70 million profit. That's after a first-quarter loss last year of $4 million. Tenet reported net income from continuing operations of $15 million. Revenue fell four percent to $2.41 billion. Bad debt expenses on a same-hospital basis fell 17 percent to $132 million. Tenet also said improved pricing and cost controls added to the positive results for the quarter.