Planners have settled on a final design for a new park that could be the centerpiece for the east side of downtown by the end of next year. As Houston Public Radio's Jack Williams reports, the urban park will include recreation areas, a pond, several restaurants and areas for outdoor concerts.
The park will be situated in what's known as a "superblock" in front of the George R. Brown Convention Center, in between the Hilton Americas Hotel and Minute Maid Park. At just under 12-acres, the park will be much smaller than either Hermann or Memorial Park, but will appeal to downtown visitors, planners hope, and eventually new downtown residents. Guy Hagstette is the Park Director for the Downtown Park Conservancy and says planners went for a "user friendly" feel.
"I think what's beginning to happen around the country is that as urban living becomes more and more popular, there's also a recognition that you need those quiet parks and those more environmentally oriented parks and certainly this is going to be green and environmentally oriented, but for an urban lifestyle, you need public space outside that people feel good about using and feel comfortable that they can use it and that's really what this park is about."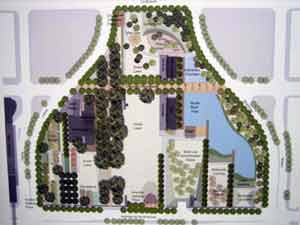 The park will also include jogging trails, a water garden and a putting green, along with a 30-foot wide promenade connecting Crawford Avenue. Hagstette says that now the final site plan is complete, it's all about managing resources and making sure the park lives up to its potential.
"We are going to have to program and manage and sequence and schedule all of those activities so that we don't have conflicts and things like that. But that's what management of a good public space or a good facility is all about. Any place like this requires that kind of management."
Nancy Kinder is the chairman of the Houston Downtown Park Conservancy and has helped raise $42 million for construction of the park. She says the idea is to build a park that will be a catalyst for new downtown residential construction in the future.
"This is an urban park, which when we started this, we really didn't know what an urban park was. But an urban park, people live around it, hence we have the dog runs, there are schools now downtown. All of that has already started, so if you look at the park, it's kind of ten years from now. We built that park hoping that all of the surrounding area will see that same thing that we saw."
The city of Houston donated more than half the park site and will contribute another $750,000 a year for upkeep. The Houston Downtown Park Conservancy will officially unveil its plans tomorrow evening at 6:30 at the George R. Brown Cenvention Center, room 307A.