Gasoline prices continue to soar…Jeff Skilling to testify at Enron trial on Monday…Attorneys for former Dynegy employee Jamie Olis ask for his release on bond as he awaits re-sentencing…
Retail gasoline prices skyrocketed across Texas this week amid concerns over summer gasoline supply prospects. The weekly AAA Texas gas price survey shows self-serve regular averaging $2.59 per gallon at the pump. That's 11 cents higher than last week and 45 cents higher than a year ago. Nationally, regular self-serve is averaging $2.60 per gallon–up nine cents from last week. The AAA Texas statement says prices could continue to climb. Auto club spokeswoman Rose Rougeau says steep price increases are common this time of year. But she says there's added uncertainty over whether there will be sufficient gasoline supplies later this year. She says it may be several weeks before clarity is brought to that uncertainty, and that gas prices may rise steadily in the meantime. The survey shows Fort Worth has the highest average retail gasoline price of $2.67 per gallon–up more than 15 cents from last week. Corpus Christi has the cheapest gas, averaging $2.49 per gallon. That's up almost ten cents.
---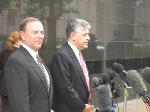 Attorneys didn't make it to the highly anticipated testimony of former Enron chief executive Jeff Skilling this past week. He's now scheduled to testify Monday in his and Enron founder Ken Lay's federal fraud and conspiracy trial in Houston. The trial finished its 10th week yesterday and took its usual Friday off. Skilling attorney Daniel Petrocelli says his 52-year-old client's likely to be on the witness stand all next week. He said he's confident his client will be acquitted.
"'Cause there are zero documents that the government has presented that in any way, shape or form show that anybody did anything wrong. They introduced normal business records and have a witness try to put a negative spin on the documents. Where is the evidence in real form? Where are the tapes? Where are the documents? Where are the smoking guns? The one document they did put into evidence is not authentic, and I think that'll be quite clear by the end of this trial, if it's not already."
Petrocelli is still calling for ex-Enron executives to come forward and testify, despite their fear of prosecution by the Enron Task Force.
"You would hear witnesses say that there was no fraud at Enron. Nobody committed any crimes there other than what Andy Fastow did there secretly behind the curtain. It is impossible to believe that hundreds of law-abiding citizens would all come together at one time to risk themselves and their families and commit felonies for which they could jail for thee rest of their lives. Yet that is exactly what the government is suggesting to the jury."
Skilling's expected appearance Thursday was delayed as attorneys questioned a defense witness in detail. Enron's former top in-house lawyer, James Derrick, spent all day on the stand and is to return Monday when the trial resumes for more cross-examination.
Ken Lay's attorney Mike Ramsey is said to be doing very well after a two-hour operation Friday morning to implant a stent in his carotid artery to open a blockage, restore blood flow to his brain and prevent a stroke. The procedure took about two hours at The Methodist Hospital, requiring a three-millimeter incision in his leg. Dr. James Muntz expects to release Ramsey tomorrow. Carotid stenting is a procedure in which a metal device is, guided by x-ray, snaked up from a small groin incision into the narrowed part of the carotid artery to hold it open, and then a stent is snaked through the catheter into the narrowed area. The catheter is removed. Ramsey is likely to miss a couple weeks of the trial, although it's unclear when he'll return.
---
Attorneys for former Dynegy employee Jamie Olis are asking for his release on bond as he awaits re-sentencing. Olis has served two years of a 24-year sentence for his role in a transaction that helped Dynegy inflate its reported cash flow by as much as $300 million. The fifth circuit Court of Appeals overturned the sentence in late 2005 and ordered a new sentence.
---
There's encouraging news for job seekers coming from the Labor Department. The nation's unemployment rate has edged down one-tenth to 4.7 percent. The government also says employers added 211,000 jobs to payrolls last month. The March employment gains were focused within the services sector, in industries like construction, education and health care. Losses were seen in the manufacturing and transportation industries. Both sets of numbers are slightly stronger than analysts were expecting. The unemployment rate goes back to where it was in January. That was the lowest in four and a-half years.
---
ATA Airlines has started twice daily, non-stop flights from Hobby Airport to New York's LaGuardia Airport. A formal welcome and ribbon-cutting ceremony this week welcomed the airline to the Houston airport system.
---
Lyondell Chemical and Citgo Petroleum are exploring the sale of their joint venture Lyondell-Citgo Refining, according to the Houston Business Journal. Lyondell and Citgo are preparing an offering memorandum to attract interested buyers. The venture said all disputes between Lyondell, Citgo and the national oil company in Venezuela have been settled, including litigation concerning the refinery crude supply agreement.
---
The American Association of Petroleum Geologists are holding their 2006 annual convention at the George R. Brown Convention Center through Wednesday. The conference will look at upstream licensing, recent discoveries, international exploration comparisons, deepwater exploration, oil sands and LNG supplies.
---
It's the nation's fastest-growing natural-gas field–and it's in North Texas. It's called the Barnett Shale–and its turning oil and gas into the region's most important industry again. The reservoir is vital to a tight U.S. supply market and has become a template for other fields nationwide. The U.S. Department of Energy ranks the shale as the fourth-most productive onshore field in the nation. It produces about 1.2 billion cubic feet of natural gas a day–enough to fuel about 10,500 homes a year. Forecasts say that will eventually reach 1.7 billion cubic feet–or two percent of the annual domestic production. That growth is crucial because most gas drilling operations are declining or stagnating. The 5,000-square-mile reservoir covers 15 North Texas counties. It consists of a dense, jet black rock found thousands of feet below the surface. Gas was first discovered there in 1981, but its heavy rock and tight geographic formations for years made it tough to siphon gas from it. Two recent technological advances helped drive growth–horizontal drilling and a hydraulic fracturing technique to break up the thick rock surrounding the gas. That means Barnett Shale has gone from 25 rigs drilling wells in 2001 to more than 130 by the end of last year. The changing landscape is making wells on high schools and private property a familiar sight. Even Dallas-Fort Worth International Airport is reviewing its options with 12 companies to lease land for drilling.
---
Matsushita and NEC said today they're in talks with Texas Instruments about collaborating on next-generation cell phones. Dallas-based TI is a major maker of computer chips for handsets. The major Japanese business daily Nihon Keizai Shimbun reports today that the companies plan to create a joint venture in Japan as early as this summer. It'll develop chips for third-generation cell phones. A Matsushita spokesman and an NEC spokeswoman confirm that talks were ongoing, but declined to confirm details of the joint venture. They say nothing's been decided. Third-generation cell phones relay data at about 40 times the speed of standard handsets. They're growing rapidly growing in popularity in Japan, and users watch video clips and download music files with them. NEC and Matsushita, which makes Panasonic brand products, already have a partnership to jointly develop software for 3-G cell phones. TI supplies Matsushita and NEC with chips for those phones.
---
A former Waco Humane Society worker who filed a fraudulent Hurricane Katrina relief claim from her work computer has been placed on three years of probation. U.S. District Judge Walter Smith in Waco also fined Kelly Suzanne Oliver $1,000. Oliver says she's "sincerely sorry" for her crime. She and animal shelter co-worker George Marrero pleaded guilty to filing fraudulent claims to receive money from the Federal Emergency Management Agency. Both told FEMA they were Louisiana residents who lost property or other items to Katrina. Marrero got more than $4,300 from FEMA–but federal authorities intercepted a $2,000 check intended for Oliver. Smith sentenced Marrero last month to time served after he'd served five-and-a-half months in jail. Marrero also was ordered to repay FEMA. The Humane Society board has fired director Mary Burdette and asked Waco police to investigate alleged financial irregularities at the shelter.