A controversial new exhibition that opens tomorrow at Houston's Museum of Natural Science is part art and part science, a fascinating look at human anatomy and physiology presented with real bodies. As Houston Public Radio's Jack Williams reports, Body Worlds Three is the latest installment in what has proven to be a popular attractoin worldwide.
The bodies are preserved using a process called plastination that was invented and refined by renowned German anatomist Dr. Gunther von Hagens. During the process, all bodily fluids and soluble fat is removed and replaced with resins and elastomers that preserve the speciman and prevent decomposition. The result is a remarkable study of how the human body is put together.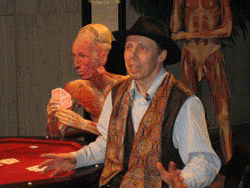 "I live for plastination, for anatomy, from the morning to the evening for 30 years now, therefore I am successful. I am not a genius."
Nearly 18 million visitors in 32 cities across Europe, Asia and North America have seen versions of the exhibition since 1996. The Houston exhibition includes Dr. von Hagens most recent work along with some 200 specimens, an array of human organs and whole bodies.
"Specimens are dry, they are colorful, they are life-like, they are not smelly, there is no gory feeling. They are able to create body pride. The visitors identify with the body. It is like the plastinates talk to them, I was what you are, you can become what I am."
The exhibition is criticized by some as sensationalistic and morbidly disrespectful to the dead, but Museum of Natural Science President Joel Bartsch says Body Worlds is more about education than a spectacle.
"When people come into the exhibition it's almost like being in a cathedral. It's very quiet. Everyone is fascinated by the subject matter, they're engaged by the educational content, but there's still, thankfully, a built-in respect that these were in life, real live human beings just like you and I."
Throughout the exhibition., Dr. von Hagens compares diseased organs with healthy ones, a subtle commentary on the dangers of smoking and an unhealthy diet. Baylor College of Medicine President and CEO Dr. Peter Traber says the graphic comparisons are effective.
"We would hope that people would get an appreciation, a new appreciation of their bodies, of how they work and of how important it is to take care of them and how fragile they can be. I think the comparison of normal and diseased organs here is a very poignant way of expressing it and I think people have a new appreciation of their bodies and how they should take care of them."
Body Worlds 3 opens tomorrow at the Houston Museum of Natural Science. Visitors can tour the exhibition everyday from 9 am until 9 pm through September 4th.