Jury hears Enron analyst conference calls and views all-employee meeting video…Blockbuster trims 300 jobs in $75 million cost-cutting campaign…Plans unveiled for $150 million expansion and facelift of Texas Longhorns football stadium…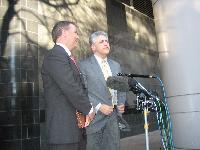 A webcast of a February 21st, 2001 all-employee meeting and several audio tapes of analyst conference calls are played in the fraud and conspiracy trial of two former Enron executives. Former investor relations manager Mark Koenig continues his fifth day under cross-examination, as Jeff Skilling's attorney Daniel Petrocelli tries to discredit earlier testimony given for the prosecution. The defense is trying to address the government's claim that Skilling repeatedly lied to investors by approving financial statements with misleading numbers. Skilling is heard unveiling the company's new strategic plan during the webcast, saying he wanted to move from being 'the world's leading energy company' to 'the world's leading company'." He addresses a Fortune magazine article that called Enron a 'black box' because it was impossible to discern how it made money.
"And when we talk about becoming the world's leading company, the target I think we all ought to have in mind is how do we become the company with the highest market value of any company in the world. And the biggest company, the number one company today is General Electric. It's about $400 billion–we're at about 70. That's the target."
Skilling is heard to agree that it's hard to show how money moves through, particularly the wholesale business. But he said tracking the volume growth of the company's physical energy deliveries was a good indicator of the wholesale business' revenue expectations. Skilling is heard telling webcast viewers that the critical Fortune magazine article was published for competitive reasons.
"The entire reason that this analysis was done by Fortune magazine is because BusinessWeek had a favorable article about Enron the week before, and there's this competition the newsmagazines have where if one says something good the other has to come and find something bad. So I think that was kind of the genesis of it."
U.S. District Court Judge Sim Lake said this will be the only chance to play recordings in their entirety. Petrocelli and Ken Lay's attorney Mike Ramsey have been alleging that when the prosecution only plays clips, it creates a false image because comments are taken out of context. Mike Ramsey questions Koenig after Petrocelli concludes, and he has several tapes to play.
---
Blockbuster plans to trim 300 jobs as part of a $75 million cost-cutting campaign. It's the second round of layoffs in less than one year for the nation's largest chain of video stores. Dallas-based Blockbuster today announced it will lay off 200 corporate employees over the next two weeks and won't fill 100 vacant jobs. The moves come as Blockbuster's video rentals continue to lag in the face of competition from cheap DVDs. Officials say Blockbuster's online rental service has grown more slowly than expected. Also, Blockbuster sacrificed more than ten percent of its revenue by eliminating most late fees in early 2005. Some franchisees still charge late fees. Blockbuster has invested millions in its online-rental business but still trails Netflix in subscribers.
---
If Texans think they pay too much in state taxes, it's a good thing they don't live elsewhere. The Census Bureau reports state taxes went up an average of 41 percent from 1994 to 2004. The inflation-adjusted tax burden increased in 43 states, and went down in just one–Alaska. But Texans pay the least in state taxes–an average of $1,368 per person. Analysts blame rising education and Medicaid costs. Medicaid is the state-federal health insurance program for the poor. In an effort to stem rising costs, Congress passed legislation last week to allow states to charge about $13 million Medicaid beneficiaries new or increased co-payments and premiums. Hawaii, Wyoming, Connecticut, Minnesota and Delaware are the top five states in tax receipts per person. Texas is followed by South Dakota, Colorado, New Hampshire and Alabama among state collecting the least taxes per person.
---
The national champion Texas Longhorns football stadium would get a $150 million expansion and facelift under a plan set for regents approval. The project to expand Royal-Memorial Stadium on the University of Texas at Austin campus from 80,000 seats to 90,000 is scheduled for completion in August 2008. The project focuses on the north end zone section of the stadium and would add office space and add fire-control sprinklers in some interior areas. The project is on the agenda for this week's meeting of the University of Texas System board of regents and has been recommended for approval by Chancellor Mark Yudof and his top aides. A final vote is scheduled for tomorrow. Bonds would be issued to cover about $107 million of the cost. Gifts would pay for $35 million. Some $8 million would come from investment returns on UT-Austin's construction account.
---
Thousands of Hurricane Katrina evacuees who had been living in 4,500 hotel rooms are now on their own. They were evicted from hotel rooms across the country because the Federal Emergency Management Agency began cutting off money to pay for their stays. FEMA says it gave those forced to move every possible opportunity to request an extension. In Houston, where 4,000 evacuees were staying in hotels, about 80 percent have permission to extend their stays until at least Monday. A spokesman for Mayor Bill White says the other 20 percent either failed to contact FEMA or made other housing arrangements. But evictions have drawn protests in New York and Oakland, California, where demonstrators carried signs and changed "evict FEMA."
---
Spanish-language media giant Univision Communications is reportedly considering a sale of the company. The New York Times cites people briefed on the proposal. It says Univision directors are expected to meet to decide whether to offer the the company for sale. The Times report says the Los Angeles-based company is valued at about $10 billion. The report says media giants like Time Warner and Viacom would likely vie for the market-leading company. However, one potential stumbling block is the FCC station limit.
---
Electronic Data Systems today reports its fourth-quarter profit doubled–even though revenue was virtually flat. The Plano-based technology-services company tightened spending during the quarter. EDS got a boost last week when its largest customer, General Motors, rehired the company to handle much of its technology work. EDS earned $112 million in the last three months of the year. That compares to year-ago net income of $53 million. For all of 2005, EDS earned $150 million on sales of nearly $19.8 billion. That compares to 2004 net income of $158 million on revenue of just under $19.9 billion.
---
Dallas-based Dean Foods blames the Gulf Coast hurricanes and related costs from energy and packaging disruptions for 28 percent drop in fourth-quarter profits. The milk and dairy products processor and distributor said net income for the period ended December 31st fell to $70.8 million. Income from continuing operations fell 17 percent to $70.7 million. Excluding items, earnings fell to $78 million. That still matched the average analyst estimate in a Thomson Financial survey. For 2006, the company anticipates sales of $10.5 billion.
---
The fourth-quarter profit of Fort Worth-based XTO Energy more than doubled on higher oil, gas and liquefied natural gas prices–as well as a jump in production. XTO said today that net income surged to $454 million. Adjusting for the effects of stock-incentive compensation, XTO said it would have reported fourth-quarter earnings of $440 million. Analysts polled by Thomson Financial had expected, on average, fourth-quarter earnings minus for all of 2005, net income more than doubled to $1.15 billion. Full-year revenue shot up 80 percent to $3.52 billion.