Gasoline prices inch upward…Enron prosecutors mull over witness list…Houston Business Journal "Book of Lists" goes out to subscribers…
A survey finds retail gas prices across the nation went up nearly nine cents, following a similar increase in mid-December. Industry analyst Trilby Lundberg, publisher of the Lundberg Survey, says the weighted average price for all three grades climbed to $2.33 a gallon by Friday. Self-serve regular averaged $2.30 a gallon nationwide. Lundberg says prices at the pump have gone up about 17 cents over the last five weeks. Lundberg says for demand for gasoline has recovered after it shrank from higher prices seen following last year's hurricanes.
---
Prosecutors have not yet decided whether to call Enron's former accounting chief as a witness, according to the Washington Post. The newspaper cites court papers with a list of 61 witnesses submitted by government lawyers late Friday. Richard Causey pleaded guilty to a single count of securities fraud the week after Christmas, and the Justice Department's Enron Task Force have been debriefing him as a possible witness against former chief executives Ken Lay and Jeff Skilling. Causey had been scheduled to be tried with them, but he can shave as much as two years off a seven-year prison sentence if prosecutors feel he cooperated with their investigation. Prosecutors could add Causey's name to the lineup before the January 30th trial. Former finance chief Andrew Fastow remains on the list. Lay and Skilling are charged with conspiring to hid Enron's deteriorating financial condition and misleading investors about the company's debt and revenue shortfalls.
---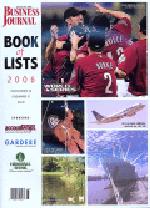 The latest Houston Business Journal "Book of Lists" has been delivered to subscribers. Publisher John Beddow says its an updated collection of the year's lists from the weekly edition.
"Every week in the Business Journal we run several lists–sometimes one or two, sometimes three or four, depending on how interesting and how complex the subject matter might be. And then at the end of the year what we do is we take all the lists and we update them where necessary and then we publish them in a very handsome book. The one thing that I think is very valuable to the reader when they receive their Book of Lists, there's an index where the lists are cross-indexed. In other words, you can look up people in the lists and you can cross-index them with the companies that they're with. So you can really get a good, very quick profile on a company and the people who lead them, because some companies will be on multiple lists, as will people be on multiple lists."
Beddow says cross-indexing is much easier with improvements in technology.
"You know, the technology makes it easier to do the cross-indexing because when we first started doing it, you know, 15 years ago, it was all done by hand and it was a very complex endeavor. But you know, technology has improved this product, mainly because you can download it on the Internet. We can e-mail it to you or, well you can get a CD and put it in your computer that way. And it does work with most of the major contact software that a lot of people use for sales and marketing, as well."
Beddow says he gets reaction in these weeks after the "Book of Lists" goes out.
"The readers really like it, and you know, they'll see it and may want to order, you know, more copies for their staffs or give them to business associates. And of course, people on the lists are interested in how they appear on the lists. It's kind of a mixed bag, and then some people aren't satisfied with where they appear on the lists, and they let us know that, as well. So it's a very worthwhile compendium of business data that our readers realize they're not going to get anywhere else, other than this book."
The Journal "Book of Lists" was sent to subscribers between Christmas and New Year's.
---
Families and individuals who suffered damage from Hurricane Rita have been approved to receive more than $588.9 million in assistance to date, from state, federal, local and voluntary agencies. The Department of Homeland Security says some 478,151 people have registered for Individual Assistance, and $558,402,638 has been approved through Individuals and Assistance. The Small Business Administration has approved $30,535,800 in loans. FEMA says 86 percent of the debris from Hurricane Rita has been removed.
The Jewish Federation of Greater Houston is giving $2.2 million to 36 community agencies for the long-term needs of hurricane victims. The Jewish Community of Greater Houston, along with Jewish communities elsewhere, raised more than $24 million to provide assistance to the victims of Hurricanes Katrina and Rita.
---
Houston-based Zonagen is beginning a Phase III trial of Androxal for the treatment of testosterone deficiency, according to the Houston Business Journal. The Investigational Review Board has given Zonagen approval to start the 200-patient trial at up to 20 clinical sites. Last month, Zonagen announced plans to begin clinical studies on its uterine fibroid drug Proellex.
---
Three Houston companies are on Fortune magazine's 2006 "100 Best Companies to Work for in America" list. David Weekley Homes came in at #24. The Methodist Hospital System ranked at #78. Men's Wearhouse placed at #92. The full list will be published in the January 23rd issue of Fortune. Of the 100 organizations named to the list, ten are located in Texas.
---
The Texas Center for Superconductivity at the University of Houston is announcing a reorganization and new national and international initiatives. Chemistry Professor Allan Jacobson has been appointed as director, and Paul Chu will serve as executive director and chief science advisor while serving as president of Hong Kong University of Science and Technology. The center encompasses three major research divisions, including the Superconductivity and Related Materials division, the Energy Materials and Applications division and the Nanoscale Materials and Applications division. The Houston International Materials Forum is being established by Paul Chu to brainstorm selected crucial issues and current materials.
---
Duke Energy North America power generation assets are being sold to a unit of LS Power Equity partners in a deal worth between $1.48 and $1.54 billion, according to the Houston business Journal. DENA has corporate offices in Houston. The sale includes all assets except those in the Midwest. Duke plans to acquire Cincinnati-based Cinergy in a $9 billion this year, making it resulting in creating one of the nation's five largest utilities.
---
We'll get the official word this week on how retailers did in the weeks leading up to Christmas. Economists surveyed by briefing.com are predicting an increase of eight-tenths for the Commerce Department report on retail sales during December. Sales were up a tepid three-tenths percent the month before. Also due out this week are the wholesale inflation numbers for last month and the business inventories and trade figures for November.
---
New Jersey-based Cendant Settlement Service Group has purchased Houston title companies American Title and Texas American Title, as well as Title Resources Guaranty of Dallas, according to the Houston Business Journal. According to Cendant, Texas American Title is the largest independent title agency in Texas. CSSG is a subsidiary of New York-based Cendant Corporation.
---
Leaders of two unions at American Airlines have objected to stock-based bonuses that executives are due to get in April. Fort Worth-based American last week provided more details about bonuses for about 1,000 executives. Four officials would get payouts of more than $1 million if parent AMR's stock price holds steady or increases before April. The bonuses, first spelled out in 2003, were increased because AMR's stock price rose more than any other major U.S. carrier through the end of 2005. Leaders of unions for American's pilots and flight attendants say the bonuses are poorly timed because AMR has lost more than $7 billion since 2001. AMR officials didn't immediately respond. No total was announced along with the information on bonuses.
---
Dallas-based technology giant Texas Instruments says it has a deal to sell its sensors and controls business to private equity firm Bain Capital in a $3 billion deal. The unit based in Attleboro, Massachusetts, supplies equipment to the appliance, climate control, industrial, automotive, lighting, and aircraft businesses. It has more than $1 billion in annual revenues with about 5,400 workers around the world. TI is giving up short-term profit for what it says will be faster growth from investing in its core business of making chips. Texas Instruments supplies chips for wireless phones and electronic devices. The companies say in a statement that the sale does not include TI's radio frequency identification systems. The sale has been approved by TI's board. It is expected to be completed in the first half of this year, requiring regulatory approvals.
---
Giant windmills are spinning an unusual debate that is dividing leading environmentalists. Wind power grew rapidly in 2005, becoming more competitive as natural gas prices jumped and crude oil prices reached record highs. Improved technology, a federal tax credit and pressure on utilities to use clean energy sources helped fuel the growth from coast to coast. But wind energy is posing a dilemma for environmentalists who support its pollution-free electricity but have grown increasingly alarmed at its death toll on birds and bats. Wind projects have sparked complaints around the country that the windmills cause noise, obstruct scenic views and kill wildlife, including thousands of federally protected birds in California. Proponents say bird kills have been minimal at most wind farms, though gray acknowledged some bird deaths. They say the visual impact is far less severe than other forms of energy such as oil drilling. In McCamey, Texas, Mayor Sherry Phillips says the town has dwindled over the decades from about 10,000 people to 1,800 as oil dried up. But these days, the area is remaking itself as the wind farm capital of Texas, collecting millions of dollars in taxes and creating 40 to 50 jobs from 860 wind turbines, she said.
---
Analysts say fuel oil will be a major ingredient in fourth-quarter restaurant earnings. High energy costs are pinching both fast-food and casual-dining chain operators and their customers. Dallas-based Brinker International, which owns the Chili's Grill & Bar brand, lowered its outlook for the quarter on reduced same-store sales expectations. Disappointing merchandise sales at Tennessee-based CBRL Group unit Cracker Barrel Old Country Stores dragged down its earnings outlook. The company said there was a high degree of uncertainty in near-term sales, citing pressures on discretionary spending from high winter heating costs and rising interest rates. In casual dining, Florida-based Outback Steakhouse launched a value menu at its flagship chain during the quarter to improve sluggish sales.