The biggest touring tent in North America is now up in the Galleria area. The 110-foot tall Big Top houses the adventurous and innovative production of Cavalia.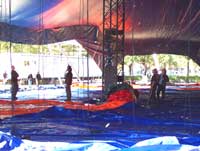 Acrobats, aerialists, riders and horses will perform in the 26,000 square-foot Big Top. Normand Latourelle is the president and artistic director behind Cavalia. He was also one of the co-founders of Cirque du Soleil.
"We are as modern as Cirque du Soleil. But the difference is we have horses."
Latrourelle started working with horses only ten years ago. He considers the animal the most beautiful creature on stage.
"You don't need to put a costume to a horse, you don't need to do make-up to a horse. Just looking at horse, having fun and playing with trainer to me is just a gift from the sky."
The show depicts the relationship between horses and humans.
"The first image we project is Lascaux Cave. Lascaux Cave is the first drawing we have from human drawing pictures of the horses in caves, on the wall of the cave. That's the first image we project. And then we go through Roman time and then we go through modern time."
The Big Top may be up now but it'll take 12 days to erect all seven tents in the Galleria area. The production involves 44 horses. Each horse does no more than seven shows a week. It can take anywhere from six months to ten years to train a horse for Cavalia. The show opens January 24th.