That old steam engine just outside the zoo in Hermann Park will be moved to a new "parking space" this week. You have no idea how much work goes into moving something as big — and as HEAVY — as a vintage steam engine.
Old Southern Pacific engine 982 has been in Hermann Park since the 1950s, but the powers that be decided it had to go because it doesn't fit in with the landscape redesign going on in the Park. The Houston Junior Chamber of Commerce came up with the idea of moving the engine to downtown Houston, so they hired the Barnhart Crane and Rigging Company to do the move. Supervisor Travis Huggins says even at 300 thousand pounds — this isn't the biggest thing they've ever moved.
Huggins says because of the extreme weight, this move is a little more complicated than usual. The engine will ride downtown on an extra long trailer with 120 tires on 15 axles.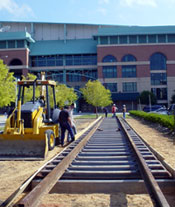 Which is a small strip of green space donated for this purpose between Minute Maid Park and the George R. Brown Convention Center, where workers are still busy laying down a short stretch of track to accomodate the engine and tender car. Janice Harrison has led this project for the Jaycees and she says the location couldn't be more visible, or more perfect.
The move will be made Thursday night. It will roll out of Hermann Park at 10pm, and because of its height they'll take a circuitous route to downtown that will take anywhere from 5 to 10 hours. Harrison says it will be on display Friday, and she swears it is pure coincidence that it will happen on that particular date.Harrison says railroads helped make Houston great, and it's important to preserve your heritage, especially a museum quality steam engine like old 982, because there aren't many of them left.