BP works to save oil and natural gas platform floating at 20-degree slant in Gulf of Mexico following Hurricane Dennis…Royal Dutch/Shell Group of Companies to settle employee lawsuit brought after it admitted to overstating reserves…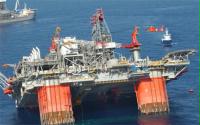 BP restored some power to its Thunder Horse oil and gas platform in the Gulf of Mexico 150 miles southeast of New Orleans, which has been floating at a 20-degree slant since Hurricane Dennis. The platform was found in that position when evacuated workers returned on Monday morning to try to reboard. Underwater inspections have not revealed any damage, but two of the platform's four pontoons appear to have taken on water. Boarding teams returned to the platform early this morning to establish pumping operations. BP spokesman Ronnie Chappell would not speculate on how long it might take to right the platform. He says ballast pumps are operational and additional pumps are being brought in. Chappell says the process of balancing the platform using water as ballast is similar to that used on ships. The start-up of Thunder Horse–one of the world's largest–had been planned for the fall. Several data recorders from the billion-dollar platform are being reviewed. Hurricane Dennis did not hit the major oil- and gas-producing water of the Gulf when it came ashore in Florida on Sunday. Nearly all oil production and more than half of natural gas production was interrupted by the evacuations, but shut-ins fell to 57 percent for oil and 43 percent for natural gas by Tuesday afternoon, according to the Minerals Management Service.
---
The Royal Dutch/Shell Group of Companies has agreed to pay $90 million to settle a lawsuit brought by U. S. employees after it admitted to overstating its reserves in 2004. News of the inflated numbers led to a lower stock market value. Employee savings plans governed by the Employee Retirement Income Security Act lost an estimated $120 million, according to the Connecticut law firm representing 22,000 employees in the class-action suit. Final approval of the settlement is set for August 28th in a New Jersey federal court.
---
Houston-based Continental Airlines will be facing more competition at its hub in Newark, New Jersey. JetBlue Airways in October plans to add service to Newark. JetBlue wants to beef up its New York-to-Florida routes. Continental responded by announcing more daily flights to five Florida cities–Fort Lauderdale, Orlando, West Palm Beach, Tampa and Fort Myers. Continental also kicked off a fall travel air-fare sale on those routes.
---
American Airlines plans its longest nonstop flight–from Chicago to Delhi, India. The Allied Pilots Association, which represents the Fort worth-based air carrier's pilots, earlier today said it had reached agreement with the carrier to allow the longer flights. American on November 15th will begin service between O'Hare International Airport and Delhi, pending government approval. The route is nearly 7,500 miles. American plans to use the 236-seat Boeing 777 aircraft for the trip. American Vice President Henry Joyner says the route is part of the airline's international growth strategy. Passenger and cargo traffic are growing rapidly in India. American also has agreed to negotiate a code-sharing deal, including frequent flier programs, with an Indian carrier.
---
Wireless tower operator Crown Castle International is buying 467 towers from TineTel Communications for $145 million, according to the Houston Business Journal. The Houston-based company will also invest an additional $55 million in FiberTower, a privately-held provider of radio-based backhaul services. Crown Castle owns, operates and manages over 10,600 wireless communication sites in the U. S. and over 1,300 in Australia.
---
The Houston Business Journal is hosting a free one-hour seminar on Tuesday, July 19th to demonstrate how to use the publication for sales leads and information. The "Make More Money" seminar will be held at the Journal offices on West Loop South. The magazine's seminar is to teach how to identify industry trends and reach decision makers.
---
An east Texas trucking-firm owner has been convicted in Arkansas on 97 counts accusing him of bribery, money laundering and conspiracy. But a mistrial was declared on identical charges against a dispatcher for Henderson-based Machinery Transport Incorporated. That's after the federal court jury in Little Rock first told the judge that the man had been acquitted, but some jurors then said they disagreed with that verdict. Company owner Joe Mack Pool and dispatcher Billy Eastland were the final defendants in a federal case dating to 1998. In 2003, a federal grand jury in Little Rock indicted eight people on 625 counts of crimes including conspiracy, bribery, money laundering, witness tampering and aiding and abetting. At the center of the case was a former permit supervisor for the Arkansas Highway and Transportation Department. Terry Nanney admitted in 2002 to taking about 400,000 that should have gone to the state. In return, he says he issued permits–many of which ordinarily wouldn't have been authorized.
---
Federal officials charge an aviation-services company discriminated against black and Hispanic workers and failed to stop white employees from routinely using racial slurs at work. Black employees say whites forced them to ride in the back of company buses. A Hispanic manager says his boss kept a cartoon of a manager tied down in "the Mexican gas chamber." The U. S. Equal Employment Opportunity Commission filed suit against Allied Aviation Services yesterday in federal court in Dallas. It's on behalf of Eric Mitchel, Francisco Ochoa and Christopher Digiorgio, who worked at Allied's facility at Dallas-Fort Worth International Airport. The lawsuit charges that black and Hispanic employees are held to higher performance standards and overlooked for promotions and pay raises. And that most minority workers tolerated the slurs, fearing they would lose their jobs or even face physical harm if they complained. The lawsuit was filed on behalf of and any other employees who faced discrimination or hostility. Lawyers said they have heard similar complaints from Allied workers at Kennedy Airport in New York. Messages left for Allied's lawyer were not immediately returned.