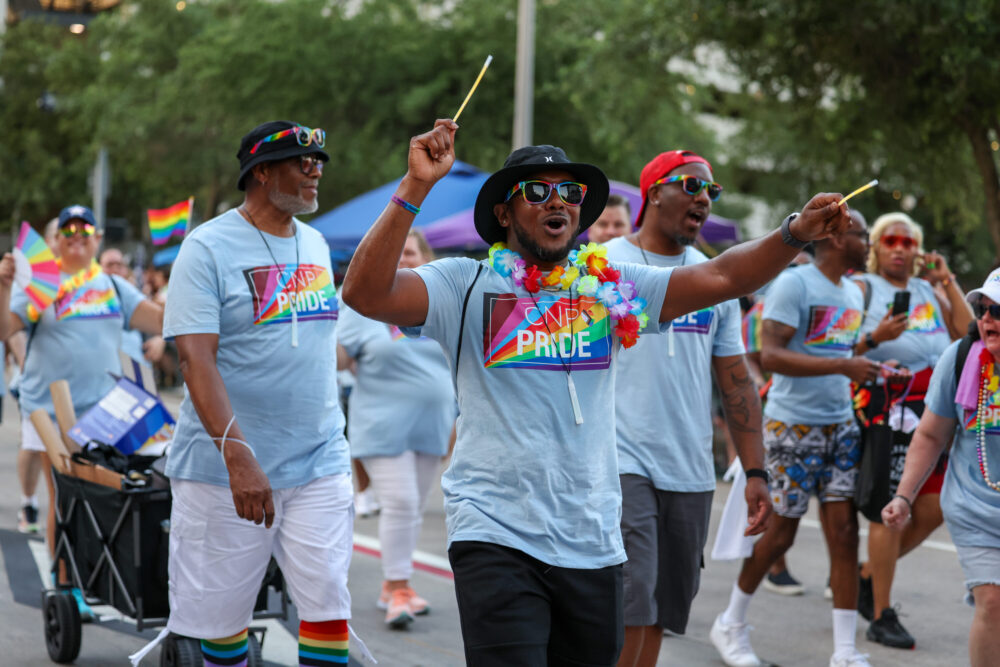 A new nonprofit celebrating Houston's LGBTQ+ community, which has a kickoff event planned for Thursday night and a Pride parade and festival scheduled for next summer, has amended its name and logo in response to a trademark infringement lawsuit filed by a similar, longer-tenured organization that for years has hosted its own Pride events.
The newer organization, which had been called New Faces of Pride Houston, rebranded itself on Nov. 1 as Houston's New Faces of Pride, according to founder and president Bryan Cotton. That was one week after Pride Houston 365 filed its lawsuit in federal court, and two days before Judge Lee H. Rosenthal heard arguments related to a temporary restraining order requested by Pride Houston, which claimed the groups' similar names had created confusion among prospective vendors, supporters and event attendees.
The request was "denied as moot," according to court records, which show that the "parties have resolved their dispute" in light of the name change. But friction between them appears to remain, with Cotton on Wednesday referring to the matter as "BS" and calling it a "waste of everyone's time."
"They knew we had adjusted the name before court. They still insisted on going to court," Cotton said of Pride Houston before referring to the law firm representing his organization. "... Thankfully, Norton Rose Fulbright is ready to take care of it should they pull anything like this again."
The two competing Pride organizations – whose parades and festivals are scheduled one week apart next June – are to file a "proposed agreed order" to be signed off on by Rosenthal, court records show. But Cotton said there is "no agreement" and "nothing to be agreed upon."
Pride Houston president Kendra Walker offered a conflicting take on the court proceeding, saying the two organizations "definitely have an agreement in the works" and that she's "happy that our trademarks were upheld." She also said Pride Houston is satisfied with the other group's name change, which separates the words "Pride" and "Houston."
Pride Houston also had alleged unfair competition in its lawsuit, claiming that Houston's New Faces of Pride – which includes board members and staff previously associated with Pride Houston – was capitalizing on expertise and networking connections gained with the longer-tenured organization. But Walker said Wednesday that issue "doesn't matter anymore," adding that she still considers it to be "unethical" while acknowledging the new group's legal right to compete with hers.
"What they have agreed to satisfies us, or pretty much agreed to. That's all we wanted," Walker said. "... I am happy that this is on the way to getting resolved. But I am cautiously optimistic and will wait until (an agreement is) actually recorded and entered in the court."
Walker said she expects that to happen within the next two weeks. In the meantime, she said Pride Houston is "focused on a great 2024" and "excited" about planning its parade and festival scheduled for June 29 in downtown Houston. She also referenced a "fall surprise that we'll be announcing soon."
Houston's New Faces of Pride has planned its parade and festival for June 22, also downtown. More immediately, the organization is hosting a kickoff event at 6 p.m. Thursday at Rich's Houston, 202 Tuam St.
Cotton said the free event will provide an introduction to the new organization and its two beneficiaries, Montrose Grace Place and Tony's Place, which both support LGBTQ+ youths who are homeless or housing insecure. He said the kickoff celebration will be MC'd by Blackberri, a drag queen who appears on the fifth season of the reality competition show "The Doulet Brothers' Dragula."
"We're excited to have all the BS of the last two weeks behind us and move forward with raising money for the festival and the parade and our community and being able to give back," Cotton said.