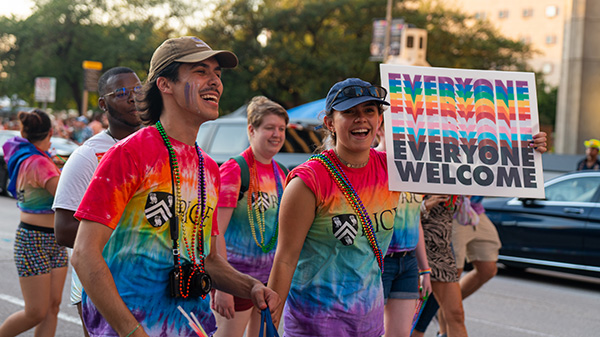 Rice University's LGBTQ+ organization cut a long-lasting partnership this week with Houston Hillel, a Jewish ministry on campus, citing conflicts with the national ministry's policies and practices.
The pride organization said the split was necessary and fueled by incidents of other Hillel chapters across the nation, which they say have weaponized Hillel International policies to engage in "discriminatory behaviors."
In a statement about the split, Rice Pride cited some of those incidents including Hillel International opposing fundraising efforts for humanitarian aid in the Gaza Strip, and the ministry sending legal threats to Hillel chapters seeking to have inclusive Isreal-Palestine programming.
"More recently, Penn Hillel has attempted to discredit and racialize the Palestine Writes Literature Festival, further showing Hillel's problematic biases against people from Palestinian background and their allies," according to the organization.
"Hillel's 'Standards of Partnership' are incompatible with Rice PRIDE's mission to create an accessible and equitable space for queer students of all backgrounds," Pride said in the statement.
The Houston Hillel chapter follows Hillel International's standards of partnership, which says the ministry will not partner with organizations that "deny the right of Israel to exist, delegitimize, demonize or apply a double standard to Israel, support boycott of, divestment from, or sanctions against the State of Israel."
"Historically, these 'Standards of Partnership' have been used by Hillel International to cut ties and spark conflicts with any organization that seeks to engage in spaces that validate Palestinian and Arab experiences, including but not limited to opposing student groups doing fundraisers for humanitarian aid in Palestine," Rice Pride said.
In a statement about the split, Rabbi Kenny Weiss, executive director of Houston Hillel said the decision alienates queer Jewish students, leaves them unsure of their own acceptance in Rice Pride spaces and damages the campus climate for all Jewish students.
"Houston Hillel regrets Rice Pride's decision to no longer partner with Houston Hillel, the only egalitarian, pluralistic, and inclusive Jewish campus ministry at Rice University," Weiss said.
"We wish that Rice Pride's leadership had pursued a conversation with Houston Hillel students or professionals during their internal discussions," Weiss said. "We feel that had they done so, Rice Pride's leaders would have learned that the conclusions they drew from outdated sources and various Hillel websites do not reflect current Houston Hillel policies and practice."
The separation means that Rice Pride will no longer receive funding or co-create spaces with Houston Hillel. Rice Pride is also actively reaching out to other Jewish resource groups and ministries for support.